The avant-garde in Maserati's new concept store
A new way of experiencing the dealership
Last night, Maserati opened the doors of its first renovated store in the world with an exclusive party with personalities from the worlds of fashion, showbiz, sport and music in the heart of Milan's Magenta district. In order to best express the brand's strength and capabilities in the field of Italian luxury craftsmanship, the innovative retail concept combines the sophistication of a tailor's shop with the authenticity of a workshop, allowing customers to express their creative passion and create a personal vision of the luxury sports car par excellence. The evening was enlivened by a series of exclusive hosts: Italian-French-Egyptian model and social entrepreneur Elisa Sednaoui, Spanish top model, actor and philanthropist Jon Kortajarena, Italian actor Alessandro Borghi, great yachtsman Giovanni Soldini and pianist and composer Dardust were among the celebrities who came to toast the opening of the new Maserati flagship store. Guests enjoyed a preview tour of the new space amidst wine and pastries signed by Michelin-starred chef Massimiliano Alajmo, while the music of exceptional DJ Scilla Ruffo di Calabria enlivened the evening.
A new avant-garde architectural concept created in collaboration with the New York-based 'experience design' studio Eight Inc., marking a clear break with the traditional 'bright and aseptic' aesthetics of car showrooms. The environment, attractive and dominated by Italian beauty, presents the illuminated cars as dynamic sculptures in a dimly lit art gallery. «At Maserati, everything is designed with the customer in mind, from the early stages of a new car's development to a luxury retail experience. Our new store concept embodies our values of passion, innovation and beauty while remaining true to the spirit of Italian luxury. Our desire is for customers to express creativity and passion, creating a Maserati that truly suits their needs» said Davide Grasso, CEO of Maserati.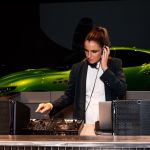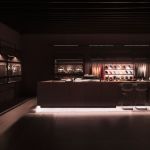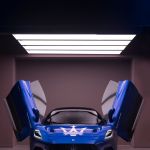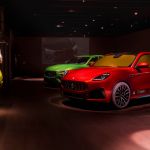 Outside, visitors' attention was captured by a spectacular window installation featuring the all-new Maserati MC20 Cielo spyder against a dramatic LED backdrop, while inside, a contemporary and welcoming space in earthy colours, reminiscent of the ancient villages of the Italian countryside, welcomed guests. The most exclusive Maserati experience available in the new store is linked to 'Fuoriserie', the Trident customisation program that allows customers to express their creativity by designing unique cars. Starting from a blank page, it is possible to personalize one's own Maserati with a wide range of features, from the boldest exterior colours and motifs, right down to the smallest details of the multi-coloured stitching of the interior leather upholstery. After the world premiere in Milan, by the end of 2022 Maserati will open new stores in Hong Kong, Shanghai, Melbourne, Madrid and Berlin, and in 2023 it will be the turn of new exclusive locations such as Los Angeles, Toronto, London and Tokyo, promoting a new model of car showroom around the world where customers have the power to make their desires come true exactly as they imagined them.