Valentino + Zoolander strike again
Do you remember the amazing appearance of Ben Stiller and Owen Wilson at the Valentino AW16 show finale in Paris?
It was a brilliant advertisement idea of Zoolander II producers, which will see the light on February 2016 and which has as protagonists once again the (super) vain models Derek Zoolander and Hansel McDonald.
Valentino released these days some images of the two guys posing in front of the Tour Eiffel in total look Valentino SS15 along with (real) models Xiao Wen Ju and Tilda Lindstam, who wear instead two dresses from the pre-fall 2015 collection.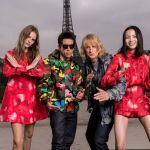 An historic brand like Valentino renewed his bond to an ironic cinema production such as Zoolander, making us suppose they want to start addressing themselves to a younger and more variegated public.
Considering the wave of publicity which came to the brand thanks to the two actors, we can affirm that, sometimes, it's a good thing not to take yourself too seriously.