Zoolander and Hansel Close Valentino FW15 Fashion Show
Instagram report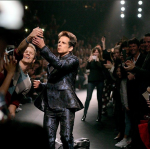 "Usually I go right, left, right, left, right, left, but today Iím going to start left in honor of how the sun rotates".
Here are Derek Zoolander and Hansel McDonald 14 years later, this time featuring Anna Wintour.
The couple of the really, really, ridiculously good looking and their Magnum look is back.
On the notes of Don't you want me, between applauses and photographers went crazy, Ben Stiller and Owen Wilson, in their model version, sprouting on the catwalk of Valentino with their unmistakable walk, the exaggerated moves and Selfie, while Paramount Pictures announced on Twitter the release of Zoolander 2 on February 12, 2016.
Derek and Hansel arrive, surprisingly, at the end of the show, closing a collection dedicated to Louise Emilie Floge, partner of Gustav Klimt, and Celia Birtwell, wife of Ossie Clark.
It's both a coup de théatre and a stroke of genius, an explosive burst of irony and self-irony that Maria Grazia Chiuri and Pierpaolo Piccioli give to the public and to themselves, aware of their talent, relaxed, contemporary and never dull.