The 5 hottest trends of Milan Fashion Week
Mint green viruses and everything fringes
For the Milanese fashion industry, this week has the flavour of a Sunday afternoon. While many are on their way to Paris right now in preparation for Fashion Week in the Haute Couture capital, those who stayed in Milan are picking up the pieces from the fashion week that has just come to a close, between shows under the rain and afterparties. For those writing, today is the best day to start taking stock of what was seen on the catwalk, filtering out the superfluous and finding a common thread among all the collections. As we do every year, we have gathered for you the best trends to follow for the coming beautiful season.
Here are the top 5 trends of Milan Fashion Week SS24 Womenswear.
Fringes
Eccentricity was certainly not the main protagonsit these last few days, yet one eye-catching detail capable was definitely there. Fringes appeared everywhere on the Milan catwalks, in all their declinations. From leather goods to knitwear, we found them composed in glitter on Gucci's trench coats and skirts, formed into sequins on Andreadamo's black leather dresses, and for the look of Blumarine's white angel. On the Bottega Veneta catwalk, Daniel Lee took this textile trickery to the extreme on the hem of wool coats, on the colour-block necklines of leather dresses, and even in pom poms. Glenn Martens at Diesel explored new ground with fringing, proposing tattered and raw denim. Prada took inspiration from Men's SS24, interrupting the graphics of its shirts with small cutouts and wrapping white taffeta dresses in jellyfish style. At Jil Sander, long textured fringes created wide collars, recalling the feathery mantle of a black crow. The list of designers who for SS24 imagine a world shredded, frayed, reduced to thin strips of fabric is endless, perhaps a sign of these uncertain times?
Mint green, lime, and ash blue
According to this Milan Fashion Week, next summer we will be craving sorbet. Pastel palettes graced by the brightness of lime and mint green outshone competition at several shows. Mint green was chosen by Prada and Boss for the interior design background of their fashion show, by Maximilian Davis for Paloma Elsesser's look at Ferragamo, while at Fendi, thanks to a careful study by creative director Kim Jones, a perfect palette, rather than a collection, walked the runway. From lemon yellow to ash blue and almost scarlet orange, Fendi's colours painted unforgettable sunsets on the same grey leather goods we enjoyed last February. More bitingly, the sorbet colour trend was taken up by Roberto Cavalli on feather and leopard lime green dresses, and by Etro in floral patterns. The shock factor at Diesel's show was reinforced by impactful shades between acid green and lime, while Versace's final looks, though eye-catching, found a new sweet side thanks to sugar paste shades. Last but not least was Daniel Lee's Bottega Veneta, the designer expert in tromp l'oeil who this time also had fun in his choice of colour, and Jil Sander, who similarly amazed fans of the classicist brand with a neon yellow dress featuring a realistic cat print.
Wet and Nude Look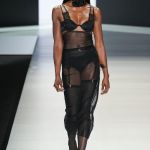 This Fashion Week, designers debuted a new sensuality on the catwalk, preaching the Wet and Nude Look, but not nudity. Tired of having to uncover the models' bodies in order to get a modicum of attention for their collections, the designers opted for material tricks that covered the models, succeeding in enhancing their shapes and making them look extremely sexy. We are talking about the wet look by Glenn Martens for Diesel, who in the Milanese rain paraded tight-fitting and glittery garments enriched by a translucent effect that gave the garments an apocalyptic yet sexually charged effect, by Sabato de Sarno at Gucci, who brought back the varnished leather of the 60s for suits and pencil skirts. The Attico and Dolce&Gabbana woman also loves the nude look, wandering around Milan in flesh-coloured jumpsuits studded with mirrors and feathers, transparent polka-dot mackintoshes, exposed lingerie, and is not afraid to show off her body in a wide-weave dress - as long as the underwear is entirely covered in crystals.
Pockets for all
One of the aspects that the designers of Milan Fashion Week have decided to bet on is practicality. Pockets, which are historically lacking in women's wardrobes, this season have multiplied, doubled, become as big as those too often envied in men's wardrobes. During the Diesel and Dolce&Gabbana fashion shows, models walked determinedly, their hands in the pockets of their leather and denim cargoes in the case of the former, and in those of 1950s mackintoshes and wool coats in the latter. At JW Anderson's, the pockets of the sweatshirts made of plastic-like material looked like an oasis of comfort, despite the ambiguity of the look, as did those of the crocheted dresses and feathered bomber jackets. Hands in pockets also on the catwalks of Fendi, Iceberg, Alberta Ferretti and Act N°1. A few months ago there was talk of bedcore, but now it really seems to be time to leave the house and find that distant whiff of comfort in your jacket pockets.
Angeli
The Victoria's Secret show a fortnight ago failed to bring back the angels of yesteryear, forgetting their origins, but the Milan Fashion Week catwalk shows drew inspiration from that very imagery. At Blumarine's, several models sported huge white feathered wings to match their look-throughs with gold details, while on Sunday evening, at the launch of Dolce&Gabbana's collaboration with Blanco, two models appeared at the end of the fashion show holding large black and white wings, looking like picturesque putti, a key icon in the Roman singer's imagination. To the unmistakable sound of Michelangelo, attending the show granted access to a little corner of paradise.