Are socks the new sneakers?
And not just according to Kanye
For fashion history nerds, Sock Shoes are nothing more than a contemporary imitation of the satin Victorian-era ankle boots, or the 1600s Japanese jika-tabis; for sports enthusiasts, however, they are the ideal footwear for climbing or water sports such as surfing. The latest design by barefoot-walk-enthusiast Kanye West, recently papped with no shoes around the city of Rome and Venice, transports an old-fashioned look to the modern day by turning it into plain old socks. Although these new Yeezys seem to be a far cry from what its customers have been used to, considering that one of the brand's signature elements has always been the bulging, embossed soles of the Boost 350 V2, the rapper's most avid fans have already taken the bait, as have the catwalks of Fashion Week.
Kanye's summer holiday Sock Shoes are very similar to the Scuba Boots he sported a couple of times back in 2019 but, unlike those which never made their debut on the market, Ye seems to be determined to complete the release of this new prototype. Last May, the rapper applied to register the trademark «YZY SOCK SHOES,» in a document that according to TMZ reportedly describes the shoes as «socks with leather soles.» Although there is no word yet on when the actual drop of the Sock Shoes will take place, several Kanye fans have already dived into the search for a similar pair to the one worn by the rapper, settling for Sand Socks, having even documented their purchase online. «The shoes are designed for beach sports like volleyball and running,» wrote one user on Reddit, «There is padding in the toe and heel area to ensure stability, which I thought was very interesting. Also, if you want, you can literally put them in your pocket. I can understand why he wanted to try these shoes before releasing his model soon.» In the past, we wrote about men's ballet flats, a trend featured in the latest summer fashion shows but, in hindsight, we may have actually overlooked a quality that seems to be of increasing interest to sneakerheads, from gorpcore to these Sand Socks: ergonomics. The ever-growing attention that new generations are paying to the soles of their feet and the way these are indulged or not in the shoes they wear can be seen on TikTok, where the hashtag #fivefingers - Vibram's sock-shoes designed to simulate the barefoot walk - has accumulated over 24 million views. Similarly, recent Fashion Weeks presented several palm-shaped shoes inspired by animal hooves and paws.
Tracing back the history of the Sock Shoe, from Kanye to the latest Fashion Weeks, the total white and black soft leather socks worn by Dolce&Gabbana's SS24 models come up, as well as those designed by Demna for Balenciaga's FW23 collection, although in this case, the heels were supported by a needle-thin stiletto heel. During the same season, Mathieu Blazy transformed cotton socks into a trompe l'oeil - a signature of his artistic direction - at Bottega Veneta, a cream-coloured knit weave that looks like wool, but reveals itself to be a strong leather weave at the touch. Lastly, Maximilan Davis at his first Ferragamo presentation, SS23, where a large red carpet hosted models in black knitted sock-boots.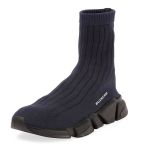 Judging by the amount of brands that have brought the Sock Shoe to the catwalk, it really does seem that the trend is here to stay, and not just because of Kanye. Despite the plentitude of negative comments that Instagram and Twitter users are reserving for the new Yeezys, these Sock Shoes may as well be forecasting a streetwear success. After all, they're not that different from Balenciaga's Speed Trainers and Rick Owens' Stocking Boots, if not for the sole.