Gen Z has discovered Nu Metal
The must-have of the summer? JNCO jeans and the Deftones' hits
In the '90s, rock fused with rap to create a new sound, combining the most aggressive aspects of both genres with elements of grunge, alternative rock, and funk. They called it Nu Metal, and although public opinion was divided between fans and detractors, it is undeniable that for most of the '90s until the early 2000s, it was the dominant genre in mainstream music, from radio to MTV, and even in fashion trends. Twenty years later, The New York Times observed a rather peculiar phenomenon: the most divisive subgenre of the 2000s has made a comeback among members of Generation Z, thanks to the mysterious and seemingly random platform that is TikTok, with its ability to chew on fragments of the past and throw them back into the present. TikTok users have discovered the sounds of Deftones, Slipknot, Korn, Limp Bizkit, Linkin Park, and Kittie, not only as a sonic dimension light-years away from today's pop scene but also as an extreme expression of Y2K fashion, featuring baggy jeans and spiky hair.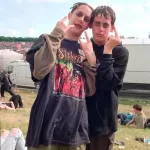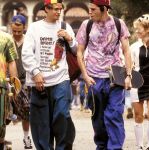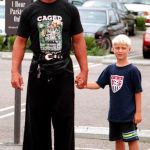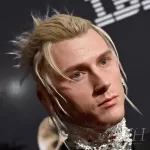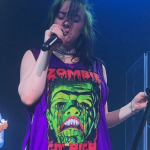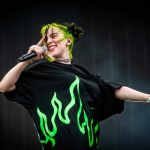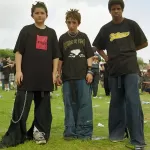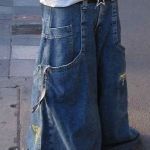 According to data from Google Trends, the genre has never been as popular on the internet since 2004. Rolling Stones points out how «in recent years, many new bands have claimed nu metal as a direct influence in their songwriting, drawing from the sounds that made the genre great and unforgettable.» Bands like Tetrarch, Wargasm, Loathe, and Spiritbox are leading a true renaissance for the genre, reflected in the renewed interest in silver chains, spiky hair held in place with gel, and pants so wide you could dance inside them. Celebrities have been pioneers in this trend: Billie Eilish pairs her oversized outfits with baseball caps like Fred Durst of Limp Bizkit; Machine Gun Kelly is a fan of spiky hair, and in June, Justin Bieber was spotted in a pair of wide-leg JNCO jeans. Thanks to designers like Demna Gvasalia at Balenciaga and a host of emerging brands inspired by the allure of Berlin raves (such as Paradox in Paris, PLN in Copenhagen, and Ziggy Chen in Shanghai), nu metal has become an aesthetic influence for Generation Z long before Deftones' Be Quiet and Drive went viral on TikTok.
According to Google Trends interest in nu metal has now exceeded its previous peak in 2004, when Google began tracking pic.twitter.com/85vLtRsfHC

— crazy ass moments in nu metal history (@numetal_moment) April 23, 2023
Back in the days of MTV, the genre was accompanied by a series of spectacular gestures - like when Mr. Durst blew up a boat live on stage or when Mudvayne attended the MTV Video Music Awards with fake bullet holes in their heads - moments that are now viral, more than two decades later, thanks to social media. On Twitter, music journalist Holiday Kirk shares clips of the most iconic moments in nu metal history, gathering tens of thousands of views. But what truly attracts teenagers to this trend is the essential matrix of pain, depression, and alienation that accompanies each song in the genre, themes that resonate today with the persistent adolescent angst of the new generations. After all, who among us at 15 could resist a song screamed by Chester Bennington?