«Berghain for me is like therapy», interview with Diesel's Glenn Martens
We caught up with the designer at the Diesel x NTS rave party in Rome
For being the designer of the brand with the most club presence across Europe, Glenn Martens doesn't hang out in clubs too much. «I never really go out in Milan, when I go out I enjoy it, but I can't do it too much anymore. There's just too too much work », explained Diesel's creative director during the dinner that preceded the party organized by the brand and NTS at Lanificio in Rome. We say party and we should say "rave," since in spirit the Rome party was just that-the second chapter of the 17-hour London rave with which the brand and NTS had inaugurated the format. «Last November the plan was to go to Seoul, to have the rave there», Martens told us. «And then Meloni came with a very aggressive statement [about raves, ed] and I was a bit like, yeah, I cannot be a creative active in an Italian brand, living in Italy and let this happen. […] I mean, of course, this part is very legal. Over 50 people is an illegal rave? My birthday was 150 people. We should maybe first focus on like corruption, maybe, I don't know, like unemployment, education. Why would your first statement go into that? I'm a political person, I can talk politically but I'm just like, this is the one I thought it was the most absurd thing because she really attacked exactly what I think the brand stands for or what I stand for».
And this is why the party was organized precisely in Rome: since Diesel is a lifestyle brand, it is on issues that affect the lives of its community that it wants to give a message-in this case, clubbing, since the brand's narrative is so connected to this world. The same happened at the last show, which, by collaborating with Durex, wanted to raise awareness of condom use among young people. «I think it's my responsibility, especially at Diesel to. For instance, HIV is increasing like crazy between teenagers now because they didn't live the 80s/90s epidemic, kids have no idea what AIDS is, they heard about it but they weren't born in those days. When I was a kid I knew about that. So that's why I think as a lifestyle brand again, we have to do shows which talk about condoms. We just do a little messages once in a while when you can and that's it». The days of being a wild clubber are gone for Martens, who, since focusing on his ambitions as a designer, has decided to devote himself heart and soul to his work, but without forgetting the role of social glue that clubbing plays in youth culture and the way clubbing itself can speak and communicate to young people. «Going into Berghain and spend six hours in there for me is like the therapy session of a shrink. I mean, I honestly, like, if I go like 15 hours I'm happy for at least 1-2 weeks and I could literally go to a shrink and it doesn't do the same effect to me. You feel the music, you completely forget about anything else. You just follow whatever you hear, your body. It's very instinctual. It's a very human thing».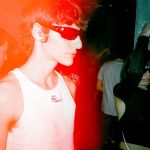 More than clubbing per se, what intrigues Martens is that notion of successful living that has accompanied Diesel since its genesis and set it apart from all mainstream fashion. «Diesel isn't about an aesthetic. It doesn't exist for a person either. It's not focused on a woman. It's not focused on anesthetic. It's not focused on an heritage. It's literally an attitude. It's about like the "I don't give a shit" attitude. The uniqueness of this brand is in every single thing we do. And that is why I think it's a platform more than a brand. I think we have success because we didn't focus on aesthetic but on mentality». On this point Martens makes an interesting point. For him, many brands outlive their creator to honor his creative legacy (his favorite is Alaia, headed by his longtime friend and fellow citizen Pieter Mulier), but since Diesel represents an attitude and a lifestyle, his freedom to deliver messages and use fashion «like a medium» is much broader - as is its opportunity to range creatively. The designer explained:
«Diesel was "For a successful living" before me. I didn't invent it. It was already there when it was launched and we all fell in love with in the thousands because of that mentality. There was maybe a little moment in the last 10 years where it got cloudy and people forgot the reason why Diesel was ever what it was. […] I think it's really more about his freedom of being, which I think attracts every single person. People want to be attracted to it, they engage into it. And I guess in the end it doesn't matter who you are, what sexual you have, which person you have, which money you have. If you have somewhere that little vibe in yourself and you want to own your life and you want to have fun by yourself, then you can be great for that».