MSGM's first sustainable trainers
A new milestone for Massimo Giorgietti's Fantastic Green 1 project
For several seasons now, creative director and founder of MSGM Massimo Giorgietti has been dedicating ample space to sustainability in the brand's collections with Fantastic Green 1, a project declining new products and initiatives in a futuristic key. This SS23, Giorgietti used the catwalks of Milan Fashion Week to express a charge of optimism and energy needed to launch the FG1, MSGM's new green footwear.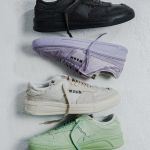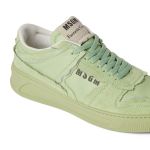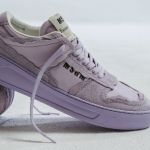 Constructed with organic fabrics and natural textures, the sneakers best express the brand's aesthetic codes while respecting the Planet's biodiversity. By collaborating with ACBC (Anything Can Be Changed), a globally recognized expert in the study of innovative biological technologies and recycled materials, MSGM has succeeded in perfectly combining the playful look that has always characterized the brand with the desire to support environmental causes. ACBC is an Italian company, producer of sustainable materials for fashion and sportswear companies, which focuses its work on sustainability without ever neglecting attention to style and product performance.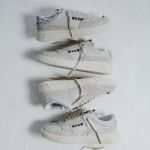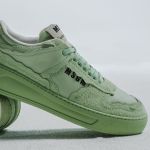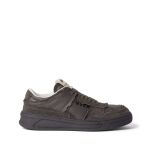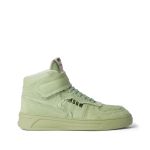 The FG1s exist in two unisex versions, high and low tops, clad in muted tones such as nude, and more loud ones, such as green and purple. The shoe upper is composed of natural materials that together form the so-called VegSkin, while the sole, in ReRubber technology, is the result of the careful recycling of rubber scraps. Even the laces and inner lining, composed of repurposed plastic bottles, aim at productive CO2 savings.