Daniel Brühl will play Karl Lagerfeld in a new series
Kaiser Karl, the highly anticipated Disney+ series on the life of the man who made Chanel great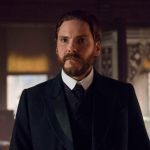 According to Variety, Daniel Brühl, the German actor known for his appearances in Nothing New on the Western Front and Captain America: Civil War, will play the late fashion designer Karl Lagerfeld in Kaiser Karl, the highly anticipated Disney+ series about the life of the man who made Chanel great, based on the biography written by Raphaëlle Bacqué. Filming of the series is currently underway in France, Monaco, Italy. As for the direction, two French talents will alternate: Jérôme Salle will direct episodes 1, 2 and 6, while the up-and-coming Audrey Estrougo will direct the other three.
Daniel Brühl (Captain America: Civil War) sera donc le créateur de mode Karl Lagerfeld dans #KaiserKarl, la série originale Disney+ produite par Gaumont
The six-part series will chronicle the rise of Karl Lagerfeld in the world of Parisian haute couture, from when a 38-year-old Karl in 1972 aspired to become France's most famous fashion designer at a time when Yves Saint Laurent reigned supreme, tracing his career as head designer and creative director of Chanel, Fendi and his own label. The series will also explore Lagerfeld's rivalry with Pierre Berge, Saint Laurent's partner, and his relationship with Jacques de Bascher, as well as depicting behind-the-scenes fights and disputes of the haute couture world, including the epic parties, decadence, tragic love affairs and friendships that marked Lagerfeld's life.
The cast of the project will also include Sunnyi Melles as Marlene Dietrich, Jeane Damas who will play Paloma Picasso,Claire Laffut as Loulou de la Falaise and Paul Spera who has been cast as artist Andy Warhol. Also starring are Théodore Pellerin who will be Jacques de Bascher, Arnaud Valois as Yves Saint Lauren, Alex Lutz as Pierre Bergé, and Agnès Jaoui as Gaby Aghion, founder of the Chloé brand. And although the release date of the series is not yet known, we can only dream of the costumes in one of the most anticipated series of the year.