Fashion month and its kink for trench coats
Incredible, fashion returns to making clothes to be worn
It's over. Fashion week, we mean. Fashion closes Fall Winter 2023 with its feathers, its movie sets, and all its trench coats. Yes because if it's true that we started observing the looks of New York from under the comforter wrapped in our wool coats, Paris brought us the first hints of spring and we find ourselves here - under a shy sun - to draw the sums of this fashion month and all we want is a new trench coat. From street style to FW collections, from Copenhagen to Milan, everyone wants to wear it. Everyone except Burberry. The luxury fashion house presented its first runway show under new creative director Daniel Lee at London Fashion Week on Monday, February 20-and there was not a beige trench coat in sight. The only one to go against the grain while the runways of Balenciaga, Scervino, and Bottega Veneta went heavy on it by covering their shoulders in armor, the trench coat notes. Tagwalk's latest reports reflect on winter trends by bringing out how much the trench coat has taken over the fashion scene, ranging from classic styles to futuristic outerwear.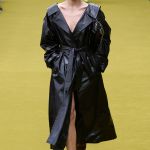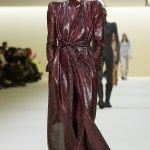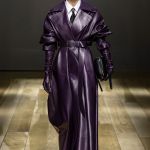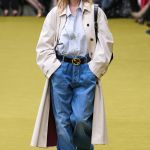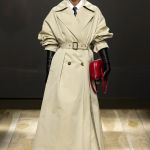 Sixty-two is the number of looks shared by Tagwalk in which we spotted a trench coat. Winning hands down - of all of them - is the leather trench coat staple of fall winter 2023 2024 - which we hope will remain for winters to come. Gucci and Anteprima keep it simple while Ferragamo and Bottega Veneta play with textures. The Olsen twins' work is indulgent yet subdued and sophisticated, untethered from trends, celebrities, and TikTok. Their woman walks with a pair of scarlet gloves clinging to the chest of a trench coat that slips over her body, too busy to fasten it. After the show shocks of the past, the Demna-Cristóbal key is also the result of the need to get back to the heart of every designer's work: parading clothes away from the spotlight, the "noise" of the internet, social media, and celebrities, all in the form of an animal trench coat. JW Anderson, on the other hand, transports us to the heart of the British counterculture worthy of the 1970s in a place that hosts concerts and raves by cutting off the sleeves of the classic beige trench coat to make us free to dance.
Suddenly wearability became the buzzword of the season. It started sprouting during New York Fashion Week and gained momentum in London and Milan, but in Paris-usually the temple of high-style creative-it has practically become a mantra. Part of what is driving this shift in emphasis is that clothes that aren't complicated and don't require a doctorate to understand are easier to sell. But part of the success of trench coats in this fashion month is also the very generosity that resides in this garment. Clothes that are not complicated also require less effort to wear, carry, to match, and FW 2023 2024 reminded us more than any other season-how fashion is a profession of service. Or how much more it should be.