In America, demand for Yeezys is rising sharply
Kanye West's sneakers are among the most sought-after online, despite infamous controversy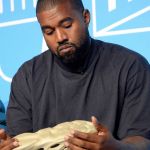 The last time we spoke about Kanye West's collaboration with adidas was last October when the brand discontinued the partnership following several anti-Semitic comments made by the rapper, preceded by the use of T-shirts with the White Lives Matter print during public appearances. Along with adidas, Vogue, Balenciaga, and the Gap had also distanced themselves from the West, causing him, among other things, to lose his billionaire title. But since then demand for the Yeezys has increased by 30%.
According to Impossible Kicks CEO John Mocadlo, the shoes designed by Kanye West are among the three most popular footwear on the site, after Jordans and some Nike shoes such as the Dunk and Air Max. «We sell about 30,000 trainers a month. Probably between 6,000 and 7,000 of those are Yeezy,» Mocadlo explained in an interview with CNN. In the resale world, the black and white Yeezy 350s are the rarest, with a resale price up to 40% higher than the actual value. The increase in demand for Yeezy trainers could be, besides a result of the usual "bad press is still good press" mechanism, an attempt by fanatics to appropriate collector's items that might be worth much more in the future. Surprisingly, Mocadlo said that many customers are unaware of West's latest invectives.
Started in 2013, Kanye West's partnership with adidas was for the brand «the most significant ever created between a non-athlete and a sports brand.» When adidas stopped producing Yeezy footwear and stopped compensating West, it lost $246 million in sales in the last four months of 2022. Now awash in unsold merchandise, adidas expects to lose a further $1.3 billion this year, saying it plans to recycle Yeezy products by removing branding. This week, according to unconfirmed rumors, a new deal was struck between West and adidas under which the brand will sell $500 million worth of Yeezy merchandise.