J.W. Anderson between celebration and self-celebration
From homage to Michael Clark to archive garments
That a season of minimalism is upon us for J.W. Anderson was already evident at Loewe's FW23, where sleek silhouettes and tailored garments invaded an aseptic white space in Paris. For the personal line, the Irish designer did not forgo ironic elements - from the outfit printed entirely with the Tesco logo to the tongue-in-cheek graphics (penises and Dadaist writings) - but everything went in the direction of reduction, towards a more subtle and less spectacular goliardie that never distracted the eye from the garments and their skilful construction. For the FW23 women's collection, the celebratory intent was more than evident, from the homage to Michael Clark to a brief journey through the archive, because, as J.W. himself said in an interview with Vogue Runway, «it's fun to look back before you look forward».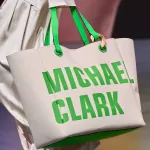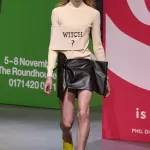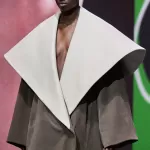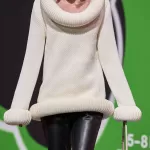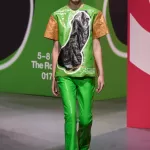 «Michael Clark is the incipit. The beginning, a blank slate, the agitator who challenged the system, who threw a glittery pair of fingers in the face of populist culture, giving birth to another» the show notes read. To showcase the collection, a giant billboard featuring a penis (a constant element in the brand's symbolism, from key rings to T-shirts) was erected at the Roundhouse, a London venue that played host to turbulent concerts and raves for decades before its gradual decline from the 1970s onwards. The collaboration with Michael Clark, the legendary Scottish choreographer and dancer whose famously subversive performances blurred the lines between ballet, gay nightlife and performance in a raucous and joyous way, celebrates British counterculture in light of the death of Vivienne Westwood and glorifies the more subversive side of the collector of contradictory influences that is Britain.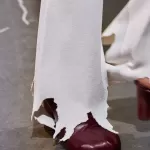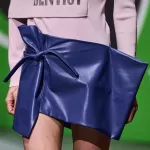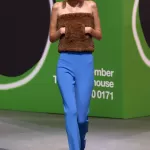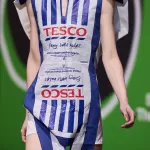 The result is a wearable but, above all, covetable collection in which voluminous and experimental shapes, feathers and burnt hems alternate with more classic garments, including structured coats and bootcut trousers. Garments from the archive seen on the runway included the faux chenille vest with kangaroo pockets, originally from the autumn 2013 menswear collection, and the 'classic' JWA T-shirt with sailor stripes and anchor logo, reinterpreted by printing the name Michael Clark in neon green letters. In a time when fashion is lost in Instagram moments, the ability to design great garments while capturing the attention of the mainstream audience without compromising on content is key to Anderson's talent, making him one of the most important designers of our time.