Balenciaga and Kering announced their collaboration with the National Children's Alliance
The brand finances the foundation's new projects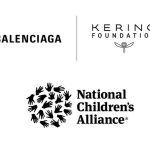 Yesterday, Kering Group and Balenciaga announced a project that will keep them busy for the next three years. The collaboration with the National Children's Alliance will finance the association's new psychiatric institute, with the aim of helping children who are victims of trauma.
In addition, this project will educate Balenciaga on the protection of children and how adults can act to protect them. The collaboration unveils a commitment by the French group to raise awareness on current issues such as child abuse and violence and promotes a happy and healthy childhood for generations to come. The three-year program funded by Balenciaga will help train 2,000 professionals, and so far estimates it will be able to support up to 55,000 children with appropriate care and assistance.
"We were confronted with the reality and extent of childhood trauma during our listening tour, during which we spoke with several leading organisations and experts in the field of childhood," said Cédric Charbit, President and CEO of Balenciaga. "Collectively, we listened and learned a lot from this experience and wanted to help, to have a positive and lasting impact on children and their future. We are grateful to support NCA's work."