The 5 best high fashion looks in MTV video clips
From Versace's baby-doll in "Crazy in Love" to Gucci thongs in "Jenny from the Block"
Long gone are the days when discovering an artist's favorite designers had to wait for an interview in glossy-cover magazines or Joan Rivers' biting comments on E! Entertainment. Those were the years of low rise jeans, glitter, celebrity obsession, and a sensuality crystallized in the MTV schedule, in whose video rotations outfits made the character, but the garments and the stylists who assembled them remained a well-kept secret. Back then, the looks may have been iconic, but without social media, the individual items the it-girls of the time wore fell relatively silent. Recently, student and researcher Nathan Capistrano hailing from Manila, Philippines, has started to do an incredible research work through social media and especially through Twitter with his page @muglerize deconstructing, video after video and appearance after appearance, the best looks from video clips of the 2000s, making us discover that the symbiosis between fashion and entertainment is by no means new in these years and that iconic pieces by equally iconic designers have coexisted with us even when we were teenagers in a pre-Instagram and pre-Tik Tok world. This is precisely why we contacted Nathan Capistrano to ask him to collaborate with us on this first exploration of fashion within the world of Y2K music.
His research, as we and the audience had already seen on @muglerize, was unimpeachable and so here are the 5 best high fashion looks seen in MTV video clips.
Britney Spears, Lucky (2000)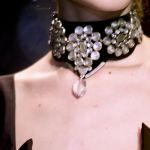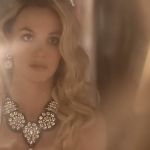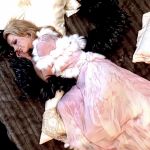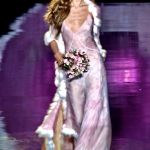 "This is a story about a girl named Lucky": it was 2000 when Britney Spears decided to tell her conflicted relationship with fame through a poignant song and video clip directed by Dave Meyers, a foreshadowing of the drama that would characterise much of her life. In the images, the singer appears as a nostalgic movie star wearing camp looks, like a metallic green halter-top with a plunging neckline, or an ethereal Roberto Cavalli FW00 dress worn while desperately throwing diamonds in the street.
Jennifer Lopez, Jenny from the Block (2002)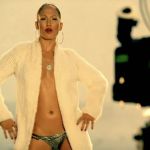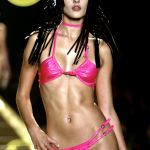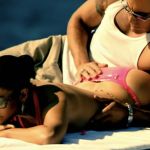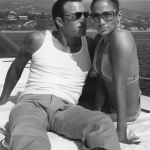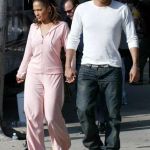 "Make the money, get the mansion, bring the homies with us" sings Jennifer Lopez in what is perhaps her most iconic song, largely thanks to the music video that accompanied its release in 2002. Directed by Francis Lawrence, the video features actor Ben Affleck, the singer's boyfriend at the time and, following a comeback that made headlines last year, her current husband. They show scenes of everyday life, romantic attitudes, a boat ride and a trip to the jeweller's, all seen through the lens of fake paparazzi, a reference to just how publicised the romance between the two was. The looks are an emblem of y2k sensuality, and include shocking pink skimpy lingerie by Christian Dior SS03 by John Galliano and olive green silk Gucci SS03 by Tom Ford dressing gowns, followed by cargo pants, flashy furs and a riot of hats in full 0's style.
Beyoncé, Crazy in Love (2003)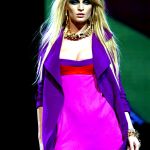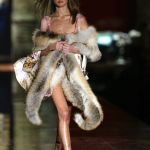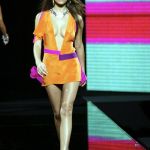 Beyoncé's elaborate dance solo performance on a platform and Jay-Z speeding through the streets of LA in a '68 Plymouth Road Runner, before setting the car on fire with a can of petrol and a steel lighter: for Millennials, these sequences of the Crazy in Love video clip are indelible memories, as are the looks that dress MTV's most beloved couple. Directed by Jake Nava in 2003, the video is a subliminal ode to Versace, especially in the final scenes, when a dance troupe, including Carmit Bachar of the Pussycat Dolls, performs in front of a fan in bright neon baby-dolls from SS03. The rest of the outfits are a riot of green Roberto Cavalli silk mini-dresses with matching fur and a Christian Dior emerald green bomber jacket.
Gwen Stefani, What you waiting for (2004)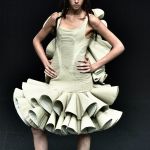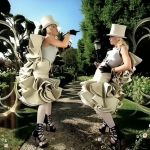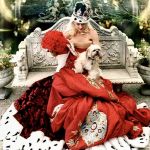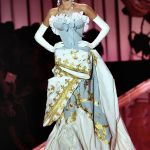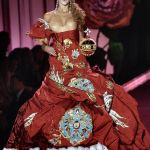 "What you waiting for", the 2004 video clip shot by Francis Lawrence marks Gwen Stefani's solo debut after her previous work with No Doubt, an artistic and aesthetic turning point for the American singer. It is inspired by the legendary Alice in Wonderland shoot photographed by Annie Leibowitz for Vogue USA in December 2003 in a riot of clothes by Vivienne Westwood, Alexander McQueen and John Galliano. Most of the looks are from Dior FW04, a collection inspired by Austro-Hungarian princesses amidst corset dresses and slightly lopsided crowns, perfectly in line with Alice's adventures. Teetering under the weight of kilos of elaborate fabric, flounces as wide as the catwalk (at one point Karolina Kurkova got stuck in the exit) and six-inch wedges, Christian Dior's models put on a fairy-tale show that kept the audience in suspense.
Madonna, Hung Up (2005)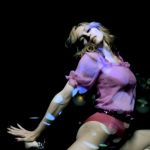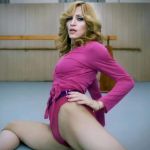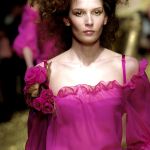 "Hung Up", directed by Johan Renck, holds the distinction of being the first video clip to reach the 100 million view mark on YouTube and sees Madonna inside a gymnasium performing some dance moves, despite having just come back from a rather serious fall from a horse. It is an obvious reference to Saturday Night Fever (1977), in which the contrast between rhythmic images and slow motion editing involve the viewer in a sensual dance. The fuchsia-coloured, 1970s-style leotard has become the symbol of 'Confessions on a Dancefloor', paired with a vintage pink sequin dance belt and sparkling Gina Shoes pumps. In the last scene, however, the star sports a vintage black leather hooded jacket, Prada jeans, black leather Yves Saint Laurent boots by Tom Ford, and a dark green vintage 1970s Danskin bodysuit by The Way We Wore. Fun fact: the hooded jacket worn by Lady Germanotta was purchased by assistant Arianne Phillips 7 years before the video shoot.