Berghain's bouncer becomes a model
Tattoos as scars and piercings as canines, the raver style of Sven Marquardt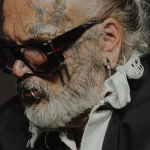 After a prolonged period of pandemic closure, it was rumoured that Berghain would close its doors at the end of 2022. Fortunately, this didn't happen. Berlin's most exclusive and debauched club continues to give hope to young people queuing in the cold, while their entry is scrutinized by a critic extraordinaire: Sven Marquardt. Tattoos that furrow his face like scars, two piercings on his lower lip, a thick goatee, his hair pulled back, the ubiquitous leather jacket: the historic bouncer shakes his head approvingly or disapprovingly and guards the secret of the selection criterion. «After twenty years as a bouncer, it's as if I have antennae, I understand who is disruptive and who is a good mix for the night» he writes in his autobiography Die Nacht ist Leben. Now fashion's most popular arbiter is also becoming a model, thanks to 44 Label Group's FW23 collection, designed by techno producer and former colleague Max Kobosil and inspired by "wardrobe for club kids in a doomed future".
After all, Sven Marquardt is much more than a bouncer. Sven was born in 1962 in East Berlin, where he spent most of his free time working in his parents' bakery in Prenzlauer Berg. After meeting Robert Paris, the son of the famous photographer Helga, he joined the city's punk community, shaved the hair on the sides of his head and got into a few too many fights. As Berlin Magazine reports, the keeper of the techno temple trained as a photographer and cameraman at GDR television in the Adlershof district and from 2000 worked on photo projects for brands like Levi's and Hugo Boss. in 2009 he started the series "Angesicht" with Camilla Erblich in the premises of Berghain. In those same years, techno was on the rise and Sven Marquardt was so overwhelmed by this swirl of energy ("We are punk, we are gay, we do not have regular jobs") that in 1994 he took on the iconic role of bouncer, guided by an intuition honed by years of raves and the "photographer's eye". A celebrity in the city: suffice it to say that Portuguese street artist Vhils dedicated a mural to him in Schoeneberg in 2011.
Of course, this is not the first time fashion has courted Sven. His gruff and eccentric appearance has earned him several invitations from Bottega Veneta (under the direction of Daniel Lee, the brand had chosen Berghain as the location for FW21 'Salon 02'). For the 44 Label Group, part of Dreamers Factory, choosing Marquardt was a foregone conclusion, to say the least, as he is an icon of the Berlin clubber aesthetic, which the Kobosil-led brand aims to celebrate with oversized bomber jackets, all-black looks and slogans scattered in the form of patches on the collection's garments - "Vinyl Only", "Guest List" and "Backstage", Sven's everyday language.