Could Berghain be closing?
The gossip is not confirmed, but it is insistent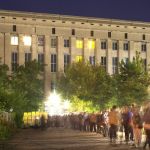 The fame of Berlin's Berghain needs no explanation. Yet in recent days, rumors have been circulating within the city's clubbing scene that the legendary club may be closing for good. As there is still no official confirmation from the managers, it is not yet clear whether the gossip is founded or not. There is no official confirmation from Berghain's managers. But let's proceed in order: last October 6, the agency and record label that represents the artists at Berghain, Ostgut Booking, announced that it would close by the end of the year and lay off its eight staff members, without it being clear what would happen to the artists it represents who also include Ben Klock and Marcel Dettman, to name two of the most prominent names. According to Faze magazine, an anonymous insider reportedly said that the club's current managers had decided to devote themselves to other projects and were pondering whether to give up its management rights or turn it into a cultural and artistic space-both options not beloved by the public.
I disagree. As much as I see that the subversion has decreased and also the gay culture has changed it remains a space for unimaginable freedom and self exploration. They also consistently have a great lineup. If berghain closes, no club is safe.

— Jan Leidecker (@jan_leidecker) October 14, 2022
According to the Berliner Zeitung: «A former well-known club operator of Berlin, who is now no longer active and lives abroad, told this newspaper, "That the agency is closing is known. And I believe that the club will also close soon." The fact that some club operators are currently running out of steam is not surprising: Behind the scenes, politicians are already tuning Berlin's clubs into the fact that this winter, even with possible club closures (or quasi-closures due to mandatory masks indoors), there will probably be no aid programs, at most for electricity and gas costs, which are rising». Which does not apply to Berghain, as the club's managers are also its owners - another clue that could hint at a voluntary departure from club management. The club's future remains in doubt.