Every man skirt seen during Milan Fashion Week
Kilts were the real main characters on the runway
It's been two years since Harry Styles' cover for Vogue sparked controversy on social media. With a blue dress, a kilt and some tulle, the British pop star came close to being a revolutionary, even though other artists (David Bowie, Prince and Lenny Kravitz to name but a couple) challenged the conformist fashion system well before him and with more clamour. Having come to the end of this Milan Fashion Week, we can say that even the designers who have chosen the Italian boot to display their collections are also ready to embrace (and mostly sell) gender non-conformism, more specifically skirts.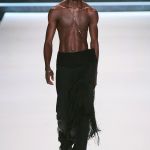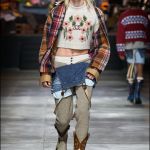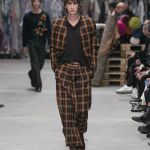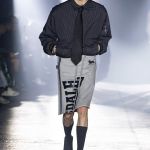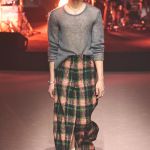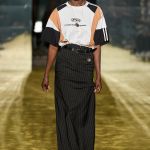 Starting the dances for this trend was Martine Rose, who for her first show in Florence designed tailored and structured lines with a marked androgynous sense. The skirts were many and all long down to the feet, in tight dark denim, a classic pinstripe muted by a sports jersey, or a silk mermaid. Stylist Samia Giobellina has instead decided to shorten skirts to a minimum for JordanLuca, playing with different fabrics and textures. There was a very specific look for every taste: from sexy draped lace to pink python, from crinkled velvet to Lonsdale's iconic grey boxer-style cotton. The Gucci team, although having taken a path towards post-Michele minimalism, brought train-length Scottish wool skirts with wide slits to the catwalk. The unmistakable loafers peeked from underneath, and were worn with white ribbed socks. Marco De Vincenzo's Etro collection also explored Tartan. For stylist Vincent Pons, these pleated skirts should be worn open, even over baggy denim, creating a look that hints at cosy punk. The minis designed by the Caten twins for Dsquared2, who played with a teenage and nostalgic look transporting viewers back to 2010, went in a completely opposite direction. Denim was ripped and discoloured with bulging pockets and black lace, or in a strictly unfastened dungaree version. The latter, which left the belly exposed, was styled with a baseball cap with the caption 'Fuckin' Freezing'. Concluding this parade of skirts was Dolce & Gabbana's Essence collection, which let each piece breathe on its own as it was worn by models who were almost always shirtless, as in the case of their skirt, full of fringes and with a 70s softness.
Judging by these last few days, it seems like designers are (once again) ready to make men wear skirts, perhaps also having followed how femboy culture has managed to arouse strong interest among TikTok users in recent years. Now that they've baited the hook, they'll just have to watch to see if this trend bites.