All the bomber jackets of Milan Fashion Week
No, streetwear has little to do with it
Milan Fashion Week has taught us a lesson that is most likely directly related to the prevailing inflation: Simplification is the strategy to focus on. As much as the world of menswear has moved away from the prevailing canons of the past and the success of the first wave of streetwear, the Milan Fashion Week shows FW 23/24 reaffirmed the importance of the essentials in fashion. Alongside the great formalwear classics and gender-neutral experiments, one of the most successful garments was the bomber jacket.

It was first seen on the catwalk by Martine Rose, the guest designer of this latest edition of Pitti Uomo, whose story of plural masculinity focused on a "sense of drama" from cultural intersections. Her bomber jackets, both denim, and nylon are worn with a tie and a shirt. A discourse that also interested Gucci's staged improvisation - this was the title and theme of the first collection without the creative direction of Alessandro Michele - where maximalism found a key in the aesthetic and narrative simplification that the brand clearly needed. Here, bomber jackets in soft shades of light blue or with a touch of silver were the absolute protagonists in looks with denim or knitted skinny trousers. Unlike Alyx, whose DNA is dedicated to the glorification of streetwear, layering was used as a means to create a kind of post-apocalypse formalwear. A couple of bomber jackets were also seen on the runway by Dolce & Gabbana, who took a cue from the brand's heritage and reinterpreted an idea of sexiness in the direction of glamour and gothic. The bomber jackets are, of course, black and made of leather. And finally Prada: the paradigm of essentiality and the censorship of the superfluous have created a clothing architecture with sometimes accentuated, sometimes toned-down silhouettes. Miuccia Prada and Raf Simons bomber jackets can be a viable alternative to tailored jackets. We are sure that we will see them this winter.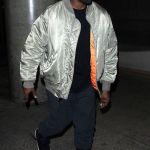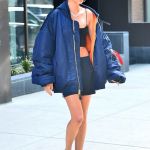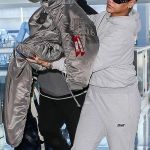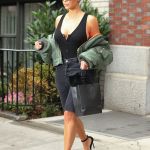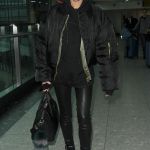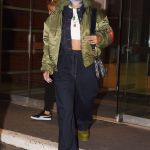 A fashion staple in the midst of 2016, the bomber jacket had become a must-have item for celebrities and beyond. Kanye West, as always, had been one of the first to wear the Alpha Industries bomber jacket in a variety of colors in which the brand's signature orange interior was the lowest common denominator that accounted for the looks of Rihanna, Kim Kardashian, and Hailey Bieber just to name a few. Although it has remained in the imagination of some brands-Balenciaga made one with three stripes for its collabo with adidas, the catwalks of the last few days seem to have rekindled the love between brands and one of those garments capable of crossing every fashion era by readjusting according to trends and the imagination of the designer of reference.