Logomania will still be seen in 2023
This is according to a survey conducted by EDITED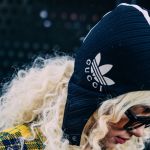 Recently, EDITED, a leading data company that works with brands and retailers around the world, analysed what the trends of key streetwear players will be in 2023. The streetwear strand, as much as its prominence has been scaled back, has actually redefined its aesthetic and narrative imagery throughout the course of 2022: Palace x Gucci, Supreme x Swarovski, Balenciaga x adidas, Dickies x Gucci, Dior x Denim Tears are direct embodiments of this-as well as a demonstration that the world of big high-low collaborations (but can one really speak of "low" in regard to these streetwear brands?) has never ceased to exist.
In a constant dialogue between high and low, streetwear has managed to create its own community that has explored its applications and variations, including the
Bloke Core
. A phenomenon that started in the crowded corridors of trends created on
TikTok,
The Bloke Core corresponds to the need to put a
logo
on a football T-shirt. It is no coincidence, then, that the most sought-after brands are characterised by an aesthetic detail - usually the logo - that immediately confirms their recognisability. If we also take into account the fact that
logomania
contributed greatly to sweatshirt sales in 2022, the survey conducted by EDITED confirms the idea that logos will be at the forefront in 2023. Even though part of the luxury industry has taken the path of absolute discretion, many brands continue to experiment with logos. On closer inspection, logomania is a response to the need to clarify the origin of an item without running the risk of being lost in the crowded magma of fashion brands. The first streetwear that has the most to do with luxury is a direct testimony to the extremes of the logo used by brands like Supreme.
Earlier this year,
Versace
and
Fendi
combined their DNA to create a collection with two logos that doubled the appeal of both brands. Almost every brand that appears in the reports published by
Lyst
is instantly recognisable by a strategically placed logo:
Diese
l, Miu Miu or Prada work on both creating a strong visual language and spreading a logo as a seal of their work. Even
Maison Valentino
, a brand whose heritage is strongly dedicated to couture, presented a collection in SS23 in which the monogram became an experiment in reinterpreting the aesthetic codes of the Maison. Not forgetting, of course, the work of
Kim Jones
at
Dior Men
, who found a kind of aesthetic compromise between the heritage of Monsieur Dior, streetwear and the aesthetics of the soft boys.
Dolce & Gabbana
also used the logo as a label on its men's and women's clothing, reusing the brand's archive from the 1990s and early 2000s. It is therefore very likely that more and more brands will turn to the logo as a
business strategy
and seal of their creative process in the continuous reinterpretation of their values or in the reformulation of their image.