The White Lotus is a paradise for costume designers
Mike White's series gives new meaning to the relationship between the characters and their clothing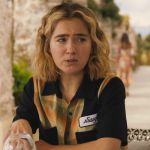 Only two years ago we talked on these pages about the complicated state of costumes in the Italian TV series. Anonymous, unbranded and often detached from the characters who wore them, the situation seems to have improved to some extent thanks to productions that are more anchored in the reality they want to tell. Despite considerable effort, however, what we saw on American screens last month with the second season of The White Lotus has set the bar for costume design in a TV series almost unattainably high, no matter what geographical longitude you are on. The work of Alex Bovaird, who has already worked on the first season, is rich in facets, more or less obvious meanings, but above all symbiotic connections with the characters that populate the five-star resort of the HBO series. As is almost universally pointed out, the character of Portia is perhaps the most striking example of this discourse. Jennifer Coolidge's assistant, herself a member of Gen Z, has an often confusing and digressive style that draws on vintage Y2K and Instagram brands, but is above all indecisive, as the character is still wrestling with her professional and human future. A professional future that inevitably passes Tanya McQuoid, played by Jennifer Coolidge. With her bombshell clothes, she resembles a doll, as the character calls herself in one episode, which in a way symbolizes the innocence of a character who often becomes a victim of events.
Richness in its many facets is another important aspect in the costume construction designed by Bovaird, which works with a human bestiary that is as complex as it is diverse. The Di Grasso family, for example, headed by the character played by Michael Imperioli, a sex-addicted Hollywood producer, flaunt their economic wealth not through clothing but through other symbols of wealth, such as a brand new Mercedes SUV. It is different for Mia and Lucia, who see clothes as an achievement of a status quo and therefore spends the first money they earn on, of all things, shopping, attracted by the colorful prints of a Liu Jo or alternatively Gucci product placement. The Kering brand is also present in the outfits of a great character, Theo James' loathsome Cameron, who, together with his wife Daphne, embodies privilege, the social class that experiences wealth as detachment from reality - they are the ones who no longer know, whether they have chosen or not, whose natural counterbalance seems to be the other couple, Ethan and Harper, in whom Aubrey Plaza's character takes on a chameleon-like character, hovering between the pretension of moral superiority and conformity that makes her resemble the hated Daphne.
But as Rachel Tashjian notes in Harper's Bazaar, no one in The White Lotus ever talks about their clothes, making them almost a natural extension of their characters. Unlike other films where the brand itself is often a narrative device to characterize a character or even drive their development - Sex and the City is a perfect example, but so is the recent reboot of Gossip Girl - the clothes in The White Lotus are always in the background but somehow ever present, the subject of maybe a few jokes but never directly mentioned. It's up to the viewer to spot the hidden meaning, as in the case of Portia, who, after admitting she's never seen The Godfather, wears a T-shirt of it a few episodes later to symbolize the character's wavering character. In a world of television where time is increasingly short, between lightning-fast productions and seasons with fewer and fewer episodes, the value of costume design as an additional narrative weapon is one of the many assets of this series, which is now in the final stages of its television year.