Tooth jewelry is back in fashion
Grills and tooth gems typical of the Y2K aesthetic are increasingly popular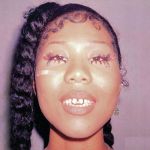 In the late 1990s the fashion for a tooth jewelry, the so-called grills, typical of the hip hop aesthetic and widely used by African American rappers and artists, had become widespread; it had disappeared a few years later, but today it is making a comeback driven by the Y2K aesthetic (that of the years at the turn of the 2000s). In May A$AP Rocky and Rihanna used them in a music video to announce their marriage: the rapper's grills read «will you marry me?» and she's read «I do.» Also on the cover of Drake's latest album with 21 Savage is a portrait of a woman highlighting her two gold-framed incisors. More generally, numerous models and celebrities in American show business and beyond have begun wearing decorations on their teeth, while tutorials explaining how to apply them have quickly spread on TikTok. Recently grills have been seen on Rosalía or Måneskin singer Damiano David, who was photographed with gold-covered canines during a concert in Madrid. These small removable prostheses are made of precious metals (sometimes they also contain set stones) and are custom-made to fit one or more of the wearer's teeth.
Grills are a typical accessory in the African American community, and one of their first appearances outside of this context was on the cover of Vogue Hommes featuring Grace Jones. It was 1975, and the Jamaican singer and actress was photographed with her teeth covered in gold. The popularity of grills, however, is traced back to a few years later: the jewelry store of artist Eddie Plein, whose story is told in the book Mouth Full of Golds, became in the early 1980s the point of reference for African-American entrepreneurs and artists in New York City, and particularly in Queens, who at that time were beginning to assert themselves socially and economically, so much so that they chose to adopt such a defining aesthetic as grills. As the 1990s progressed, then, they became increasingly popular, until they became-in about a decade-a wildly popular and almost indispensable accessory for many rappers, on par with gold chains, watches, and flashy rings.
These prosthetics were used in hip-hop culture to flaunt wealth and high social status, and to communicate that one "made it" despite coming "from the streets." Artists such as 50 Cent, Jay-Z, Lil Wayne, and Kanye West have long used them, while in Italy one of the first to wear them was Sfera Ebbasta. But grills in the States have recently begun to be seen outside the typically male and African-American music scene, and in recent years they have also and especially arrived in women's fashion. Katy Perry in 2018, for the video clip of "Dark Horse," had a custom-made "denture-jewelry" worth $1 million-which later entered the Guinness Book of World Records as the "most valuable grill" ever made. Madonna a few months ago wore them during an interview on Jimmy Fallon's Tonight Show, and like her, they are known to be appreciated and used by Kim Kardashian or Miley Cyrus.
Despite being so prevalent in certain circles, the shameless and deliberately somewhat "boorish" aesthetic that grills evoke is in some respects exaggerated for some consumers, who have therefore preferred to interpret the fashion of the moment by using instead so-called tooth gems, i.e., glitter applied to the teeth by glue. They are less visible, less "tacky" and less expensive than grills, and convey a more "playful" and "innocent" effect. At the same time, they are more creative than the classic glitter in the tooth - although Bella Hadid's one at the last Cannes Film Festival drove the trade press crazy. Best of all, tooth gems do not need to be custom-made, which instead makes grills less accessible for a substantial segment of users. In fact, these small removable prostheses made of gold, silver, or other precious metals are handcrafted jewels that require a lot of maintenance.
One of the most famous workshops in the United States that makes them is that of rapper Paul Wall, who also became known to most through his particularly elaborate grills. In 2016, he decided to start a business entirely dedicated to this type of product, and so opened a store in Houston, Texas, that takes care of their creation and more because they range from molding teeth to cleaning clips. Another label that has become famous more recently thanks to the revival of this 1990s accessory is Helen with the gold teeth: founders Dolly Cohen and Helen Harris were described by Elle as «part dentist, part conceptual sculptor, part jewelry designer.» And then there is Perlas Gems, a Barcelona-based workshop specializing precisely in such applications, which can boast clients such as Rosalía herself in its portfolio.
Gold mouthguards or their less excessive version, tooth gems for that matter, are applied with the help of real professionals: in the former case, a cast of the teeth is used, while for the latter a special glue (which solidifies thanks to the same technology used for semi-permanent enamel) is used; the latter then can be single or many to form one or more compositions-in Rosalía's upper incisors, for example, a series of tooth gems are joined together until they create the silhouette of a butterfly. But do such accessories represent just the latest Generation Z craze, or instead are they here to stay? Given the economic effort they require from consumers, and the ever-increasing adoption by celebrities, it certainly seems that brands will be exploiting them quite a bit in upcoming collections.