How big can Burberry get?
New CEO, Jonathan Akeroyd, wants to increase sales to 5 billion annually in the long term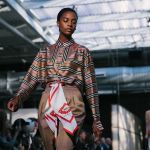 A few months ago Burberry's new life began. After the long but complicated reign of Christopher Bailey and the five years spent under Riccardo Tisci, who revived the brand's sales but did not reposition it in the world of ultra-luxury in which the brand wanted to place itself, it will be up to the new CEO Jonathan Akeroyd and especially the new creative director, the rediscovered Daniel Lee, to usher in the brand's new phase of life. And although no output has yet appeared in the form of campaigns, collections, or products, the new management's presence alone has begun to make itself felt: at the end of the first half of the fiscal year, last October 1, reported revenue growth was 11 percent, operating profits were up 21 percent, and shares on the stock exchange were also up 1.8 percent. Akeroyd plans to grow annual sales from £2.8 billion to £5 billion, reaching the £4 billion mark in three to five years. Among other things, the brand announced that its first Daniel Lee-signed campaign will arrive in January (though still with Tisci's collections). In February 2023 the brand's new identity will debut.
The main goal will be to make Burberry the top British brand in handbags and leather goods, riding the wave of increased accessories sales, which accounted for 37 percent of sales in the past year. To win this supremacy the secret weapon will be Daniel Lee's handbags and accessories but the company's focus remains fixed on strengthening the womenswear collections, developing footwear that has been dormant so far to double sales of both categories, as well as leather goods. To achieve these goals, the brand has begun to slowly raise the prices of some products and increase sales per square meter in its stores to an average of 25,000 pounds. The increases so far have served to keep pace with inflation and preserve profit margins but have been inserted organically enough that they have not provoked customer protests. In general, the idea of Britishness and Burberry's outdoor origins will be a new focus and so a sort of return to basics is to be expected, conceptually speaking at least. Speaking to analysts, Akeroyd specified how, for example, the brand's real regular customers now continue to buy classic trench coats-implicitly pointing out how the more modern, trend-oriented aesthetic envisioned by Tisci had not convinced loyal customers and that instead there will now be a return toward the study of timeless products.
Beyond the actual products, Burberry's acceleration will also mean increased investment in marketing, which is expected to become significant in the coming years and will be accompanied by a new boutique connection. The redesign of boutiques will be implemented worldwide by 2026 while e-commerce will have to double its sales volume, which accounts for only 10 percent of total sales for now. The task is challenging but not insurmountable for Akeroyd, who has already been responsible for Versace's expansion in recent years, based precisely on an investment in the brand's heritage. The challenge, however, will be in guiding this expansion at a time when luxury sales are expected to contract: as BoF says, in fact, according to Bain, luxury sales will grow from 3 percent to 8 percent in 2023 compared to 22 percent this year.