The toxic materials that fashion can't get rid of
Efforts to find alternatives to "forever chemicals"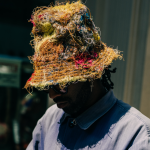 The promises attributed to the fashion system are many and, often, have to do with the environmental impact that comes from the textile industry. A bit over a decade ago, the biggest fashion brands agreed in their ambition to eliminate harmful chemicals from their supply chains. This was after Greenpeace made it known how rivers were turning pink from chemicals released. The issue appears to be particularly true for a group of harmful chemicals including forever chemicals - a group of toxic substances that never break down and have been linked to health risks including reproductive problems and cancer.
More technically known as perfluoroalkyl and polyfluoroalkyl substances, or PFAS, they are used for a variety of practical applications, including converting ordinary textiles into high-performance variants that are resistant to water, stains, oil, and even creases. At the time, concern focused on a select group of PFPFAS considered particularly hazardous and polluting. Yet larger brands continued to use large quantities of this type of chemical, overshadowing the factual evidence found in the data provided by scientific research. «They're surprisingly widespread», said Alden Wicker, a materials science journalist and author of the book To Dye For, focusing on unregulated chemicals in clothing to be published in June. «PFASs are present on anything that promises some kind of performance related to staining, waterproofing or water resistance» he continued on BOF.
PFAS are still present in a range of sports, outdoor and performance apparel. Brands such as Patagonia and Canada Goose use them in raincoats and they are found in the manufacturing process of Gore-Tex fabric, the highest-performance fabric available. Eliminating them presents a challenge for the entire industry. So far, efforts to eliminate PFAS have been left to the brands themselves, with limited impact. Few high-performance product companies have succeeded in completely removing the chemicals, and many have not yet committed to trying. On the other hand, health scandals in other industries that use PFAS coatings, such as cookware, have raised public awareness of the risks associated with this chemical. This hasis has prompted stricter regulation, which will force the fashion industry to take serious action. In late September, California passed a law banning the use of these substances in manufacturing and sales by 2025. Similar laws are under consideration in states such as Maine, Washington, and New York. On the other side of the Atlantic, European Union countries are looking to implement broad PFAS bans in a range of sectors, including textiles. «I think brands could do it if they were forced to do it», Wicker said. Another challenge is to find alternative, safer chemicals that match PFASs in terms of performance, price and accessibility. Newer innovations have just come to market and, for the most part, are still far from being widely used.