Is Kering about to acquire Tom Ford?
The news started a race between the luxury mega-group and Estèe Lauder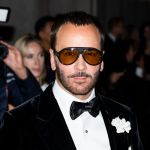 It is a race to take over the Tom Ford empire. If all the signs of the past few months (Ford's stepping down from his CFDA chair, negotiations with Estèe Lauder, Goldman Sachs' valuation of the brand, and so on) pointed to an upcoming sale of the brand founded by the Texas designer, which stretches from fashion to cosmetics, from perfumes to watches, for the enormous sum of $3 billion, a recent WSJ article has turned the tables. In fact, according to very reliable sources, not only is the Kering group sitting at the negotiating table but it is even the favored competitor. Playing against Estèe Lauder in fact are a 5 percent drop in sales recorded in the last quarter and caused by lockdowns in China as well as doubts raised by the fact that Estèe Lauder has never really run a clothing brand and is more interested in Tom Ford's beauty branch. By the way, the acquisition of the brand would be the largest in Estèe Lauder's history but not an overly large deal for Kering to handle, whose market value is around $60 billion.
From a purely strategic point of view, the agreement with Kering could provide a more equipped platform for Ford's brand growth. In fact, the brand is very strong on the menswear side, with the perfume and beauty business experiencing very strong growth and the womanswear and accessories collections, on the other hand, appearing less developed and therefore should be brought up to the same cruising speed as the rest of the brand. Kering would therefore be an ideal partner for Ford, considering also how Tom Ford himself launched his career in the 1990s by relaunching Gucci, which has now become the flagship of the French luxury conglomerate's fleet.