The 10 Hoodies you need in your wardrobe
Items you won't be able to live without selected from Zalando e-commerce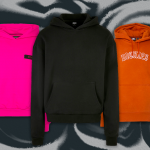 With the arrival of winter, it happens that even lovers of formalwear succumb, at least once, to the charm and comfort of the hoodie. The advent of streetwear has, in fact, started a real process of elevation of the item. This has evolved from being associated exclusively with leisurewear to an item featured in most luxury brand collections. But what are the hottest hoodies to buy now in view of an increasingly diverse wardrobe adaptable to styles and contexts to be managed in just 24 hours? We selected them for you directly from the Zalando store.
Basic
As basic as it is functional, the hoodie from Urban Classics is a must-have within one's closet because it is adaptable to different contexts and styling. Available in a palette that traverses basic and neutral color values (black, white, beige, and gray), the Ultra Heavy hoodie has a straight silhouette and a regular fit. To be included in the "never again without" category.
Artwork
If you love prints or patchwork with an artistic vibe, Han Kjøbenhavn's hoodie explores the hoodies dimension with a decidedly more personal edge. Available in faded black and has a tapered silhouette. Perfect for those looking for a hoodie with a sporty feel but a more conceptual soul.
Zippered
For those who prefer layering and are looking for a brand with a more structured heritage, the choice might fall on Vivienne Westwood's zippered hoodie. The relaxed fit silhouette is complemented by a double-zip design and chest embroidery.
Baggy
With a leaner, edgier cut, MM6 Maison Margiela's hoodie has a pouch pocket and drawstring hood. Ideal for those with a dark style or who like the total black uniform concept.
With logo
One of the best solutions for those who like logos and the classic fit is offered by Fred Perry's model. The line is straight, the fit is regular and the reference palette is dark with a beige band.
Preppy
If you love preppy and college style, you won't be able to do without Tommy Hilfiger's Seasonal Icon Hoodie. With a regular fit and simple styling, it looks great over both chinos and denim. The colors also range from black and white to blue and red variants.
Gingerbread workwear
Streetwear and workwear come together with Dickies' hoodie. In addition to a regular fit and printed embroidery, Dickies' model features a gingerbread color scheme.
Icon Long Sleeve
Iconic and versatile, Polo Ralph Lauren's Icon Long Sleeve is available in a wide range of colors. From bold hues like college orange to softer ones like haven green, Ralph Lauren's pattern is the ideal choice for sophisticated, yet casual looks.
Genderless
Diesel's unisex T-Wahood hoodie has a slightly overfit and is available in anthracite. Ideal for streetwear-oriented styling, Diesel's jersey model pairs perfectly with denim.
Fluo
If you love bold, strong hues and follow trends, N°21's hoodie is fuchsia and features a black Velcro logo applique and silver-colored metal pin decoration on the chest. The ribbed trim and kangaroo pocket make it even more glamorous.