Gucci announces collaboration with Palace
The ultimate sublimation of skate culture in luxury
The rumors were true: Gucci's upcoming collaboration with Palace has been confirmed, bringing the Italian fashion house and the British streetwear brand together for the first time. The pop sensibilities of the brand headed by Alessandro Michele will combine with the London skater vibe encapsulated in the collections of Lev Tanju and Gareth Skewis for a collection that unites the two brands within the same aesthetic expression, exploring their commonalities but combining in a maximalist and idiosyncratic way what makes them different. The collaboration was unveiled today through a campaign signed by Max Siedentopf, who narrates it through a series of surreal shots that mix alien apparitions, levitating houses, Lucien Clarke flying through the air hanging from an umbrella like Mary Poppins, muppet business meetings, and poodles watching skate videos. The collection will be available online from October 21 exclusively on Gucci Vault, which, for the first time in its history, will become an actual location through pop-up stores in Paris, Milan, Tokyo, Osaka and Bangkok, as well as a takeover of Palace stores in London, New York, Los Angeles and Tokyo that will be re-styled for the occasion.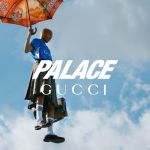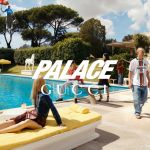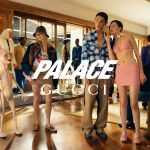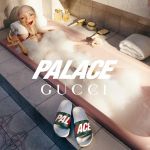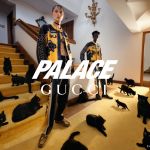 Within the collection, street culture, country rodeo aesthetics, skate culture, and sportswear become parts of a multifaceted identity whose narrative moves through unexpected cultural manifestations ranging from soccer to house music to motorcycling. Comprising a wide range of accessories and apparel, the collaborative collection includes Palace's historic debut in womanswear. As these are two brands with such iconic logos, the garments co-signed by Gucci and Palace are also meant to reflect on the nature and power of the logo, from its ability to establish exclusivity to that of defining a community of belonging.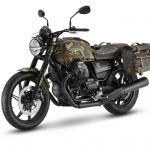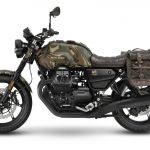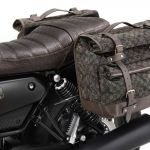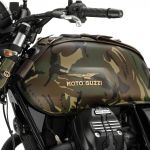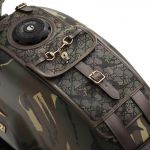 Among the most iconic pieces in the collection, for example, is Gucci's classic horsebit loafer decorated with Palace's "P" pendant whose triangular shape also infiltrates Gucci's iconic monogram, ideally overlapping the two distinct identities. In the same vein, the pillars of Palace's aesthetic are present in the form of soccer jerseys, jeans and tracksuits, but also through re-imagining the brand's monogram in pastel colors.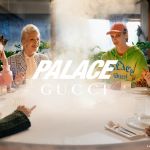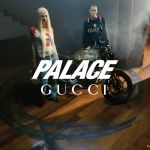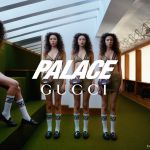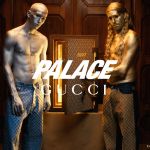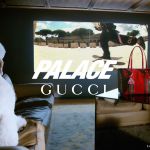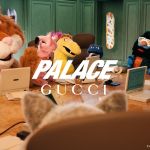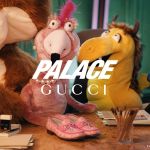 Finally, in addition to more ambitious items such as the shearling jacket and collectibles, part of the collection will be enriched by a third and even more iconic partner, Moto Guzzi, resulting in a limited edition of only 50 pieces of the Italian motorcycle manufacturer's iconic V7 motorcycle. The exclusive V7 model will be adorned with a tank covered in Palace's camouflage motif and covered in embossed leather with Gucci's signature branding on the side bags. Finally, as an ironic reference to the "Vault" through which the collection will be released, a safe will be produced that will bear the double gold Gucci and Palace branding, covered in the double monogram and produced by Conforti in a strictly limited edition of only 10 pieces worldwide with an interior lined in embossed suede.
The new Gucci x Palace collection will be available online at Gucci Vault starting October 21 and at all of the brand's pop-up stores.