The big rehearsal of democratic fashion
«Life is free»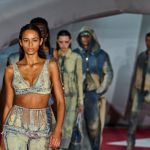 During a recent interview with Forbes, Kanye West said: «When it's sold in America, it'll be made in America, and when it's sold in China, it'll be manufactured in China. So the glasses will cost $20, and everything in the Ye Supply store will be $20. And, we're working on how to make clothing free. Because life is free». These words are not only part of the grand (and somewhat foggy) vision of democratic fashion that Ye would like to bring to reality, but also reflect a type of attitude that fashion brands and creative agencies are implementing these days, especially during Milan Fashion Week. On September 21st, Diesel offered 1,500 of 3,000 tickets to their show to students. On that same note, Moncler will be celebrating their anniversary on Saturday with a big show open to everyone and anyone in Milan's Piazza del Duomo. Benetton will take to the catwalk on Sunday. Just as we at nss magazine sold out of our 10th anniversary t-shirts at our pop-up in Milan, Telfar Clemens was able to tie up Brooklyn traffic with a pop-up of his own where his famous shopping bag was on sale in all colors and sizes for whoever attended.
More and more, over the years, certain forces within the industry are actively working to solve the apparent paradox of "democratic fashion". After fast fashion was declared public enemy number one for the health of the planet and the secondhand market ended up feeding the increasingly frenzied consumption of Gen Z, the entire apparel industry had to face the difficult problem of accessibility. The process is already well advanced in America, where brands such as COS and Boohoo parade in New York alongside decidedly more avant-garde designers. Designers such as Ralph Lauren and Tommy Hilfiger have built their success on the marriage of fashion and commerciality becoming mass phenomena. Even Vogue's $3,000-a-ticket street show could be seen for free from the balcony of the neighborhood residents' homes. In Italy, this point has not yet been reached. The furthest along in this respect remains Glenn Martens' Diesel that showed at fashion week yesterday and can be bought at acceptable prices today, with different product ranges from the mainline commercial to the semi-couture one-off piece such as the "faux fur" made entirely of frayed jeans that is not available to the general public. Elsewhere, democratic fashion experiments are more about fashion as culture and spectacle than fashion as product - it's visibile but it's not accessible. But after all, it is precisely in our country, as well as in France or the United Kingdom, that the traditional idea of luxury has been formed over centuries and still retains its stuffy aura.
my hot take is that it's bad ye is making affordable clothes. his popularity and influence, combined with the cheapness of the products, make for an intense hype cycle. no one will wear these 6 months after buying em; they'll be flimsy plastic sheets in landfills and oceans pic.twitter.com/yDNdER61Z8

— derek guy (@dieworkwear) September 22, 2022
In recent years, then, certain products and brands have taken on an across-the-board appeal: Birkenstock's Boston Clogs can be seen as much in the small Italian province as in the middle of fashion week, the same goes for Dickies' workwear suits, Converse Chuck Taylors, Clark's Wallabee's or Vans. All products from brands that have been able, in one way or another, to become desirable without being exclusive or, to use a word we might apply to luxury fashion, exclusionary. Unfortunately, excluding still remains the best way to generate value: even at fashion shows, those in the second row feel excluded from the front row and those who remain standing feel excluded from numbered seats. And it still remains true that these dynamics, those of rarity, scarcity, and lack of accessibility are less about fashion than about human nature per se. Despite this, the fashion industry still wants to exclude as much as it wants to become a mass phenomenon. In Milan, advertisements for big brands are posted at bus stops that those brands' customers would never dream of waiting at. The most popular stars advertise the most inaccessible products, revealing that without the attention of the masses, the complex machinery of big global fashion brands would end up jammed. But more importantly, if brand communities were limited to those brands' clientele, they would be much smaller and more obscure. So how do we solve the paradox of fashion that wants to be popular without becoming cheap? We don't know yet, but as we have seen in Milan and New York, many are trying.