The Democratic Republic of Diesel
4800 guests and a Guinness World Record inflatable
Red neon, massive humanoid-shaped inflatables, thumping techno music: the Allianz Club became a rave arena for the fashion show that mobilized, for the first time, all of Milan. 4800 people, most of them students under 26, attended Diesel's SS23, cheering each garment with the fervour of a stadium. Accomplice to the return of the Y2K trend, of which the brand has been both proponent and passive spectator, and the artistic vision of one of the most innovative personalities on the contemporary scene, the brand is now more in vogue than ever, generating a cult so pervasive as to border on the mainstream, after a decade in which the Diesel name was synonymous with banal jeans and little else. The charisma of Glenn Martens, already known in its more intellectual declination for Y/Project and in its higher version for Couture in collaboration with Jean Paul Gaultier, emerges with Diesel in its more mainstream and pop version, in a fragile but effective balance between extravagance and pragmatism. Glenn Martens has succeeded in the feat of making Renzo Rosso's all-Italian brand a stadium phenomenon, aggregating and democratic as only football can be. A collection that retraced the most iconic garments, such as the belted skirt and the iridescent leather models of SS22, in a riot of nostalgic denim in its most eccentric and maximalist declination. If Y2K, extra baggy cargo and crotch-hugging miniskirts will still be in vogue next season you know who to blame, but if you're one of the few who didn't get a chance to attend the most hype event of Fashion Week, fear not, here's everything worth knowing.
From Guinness World Record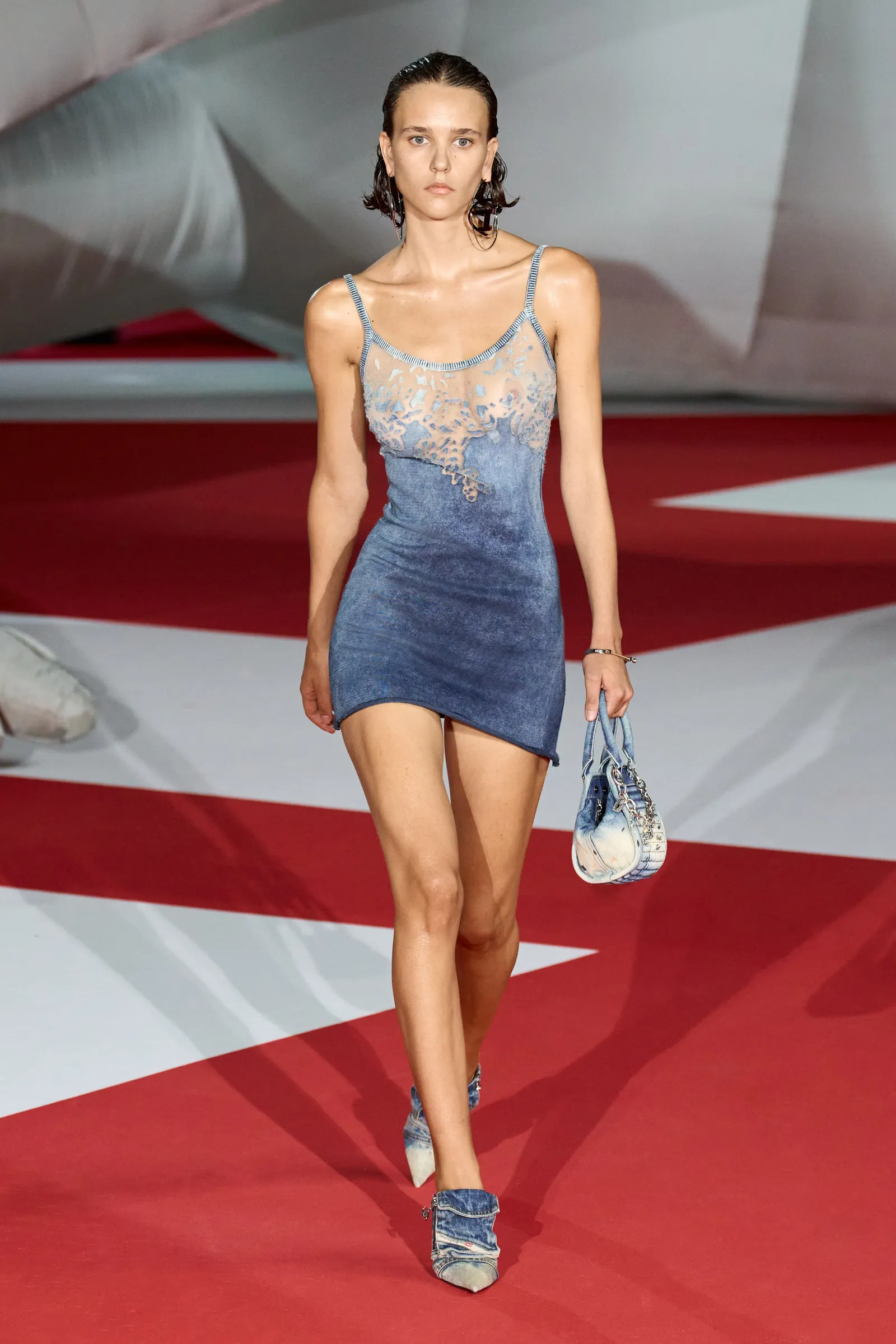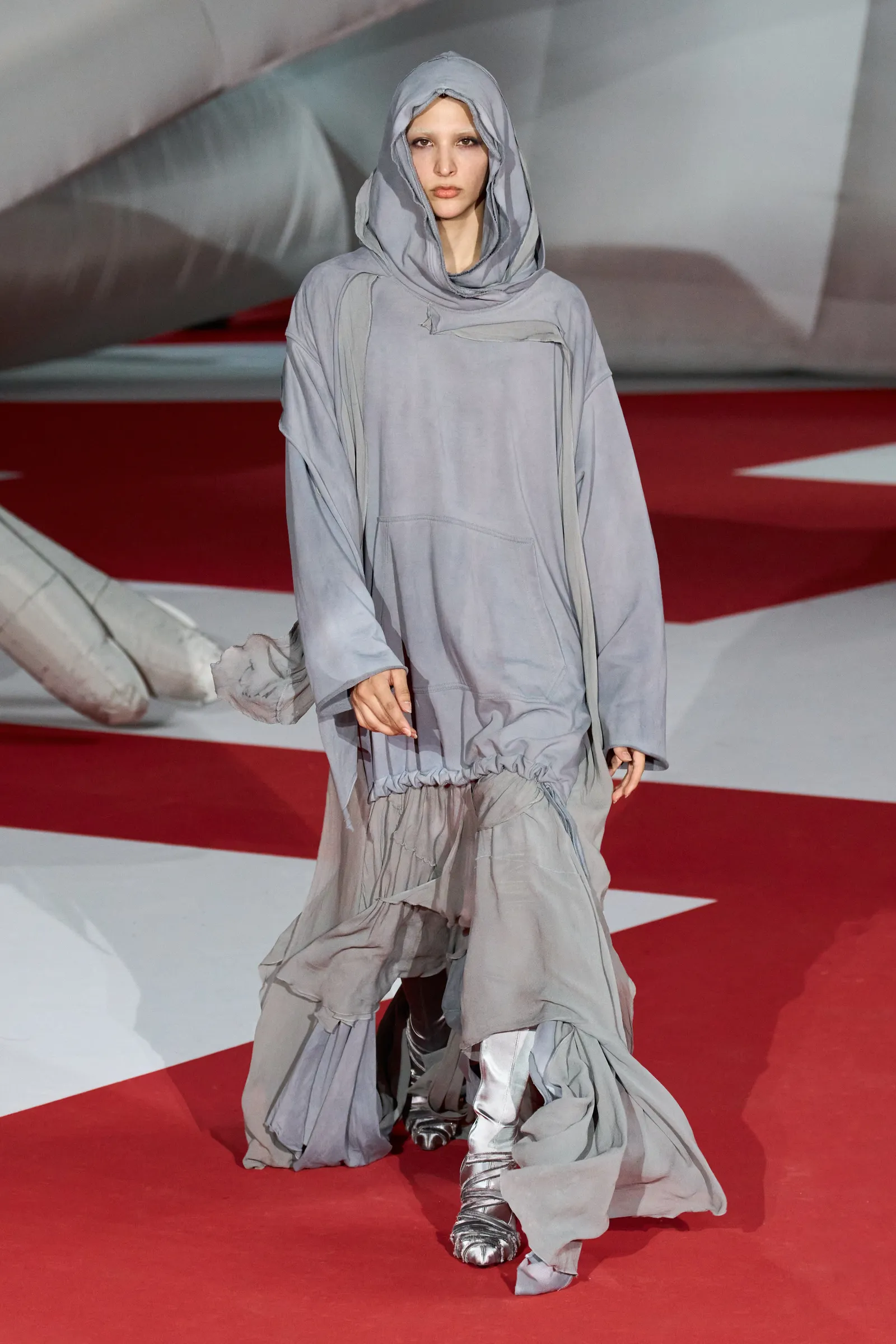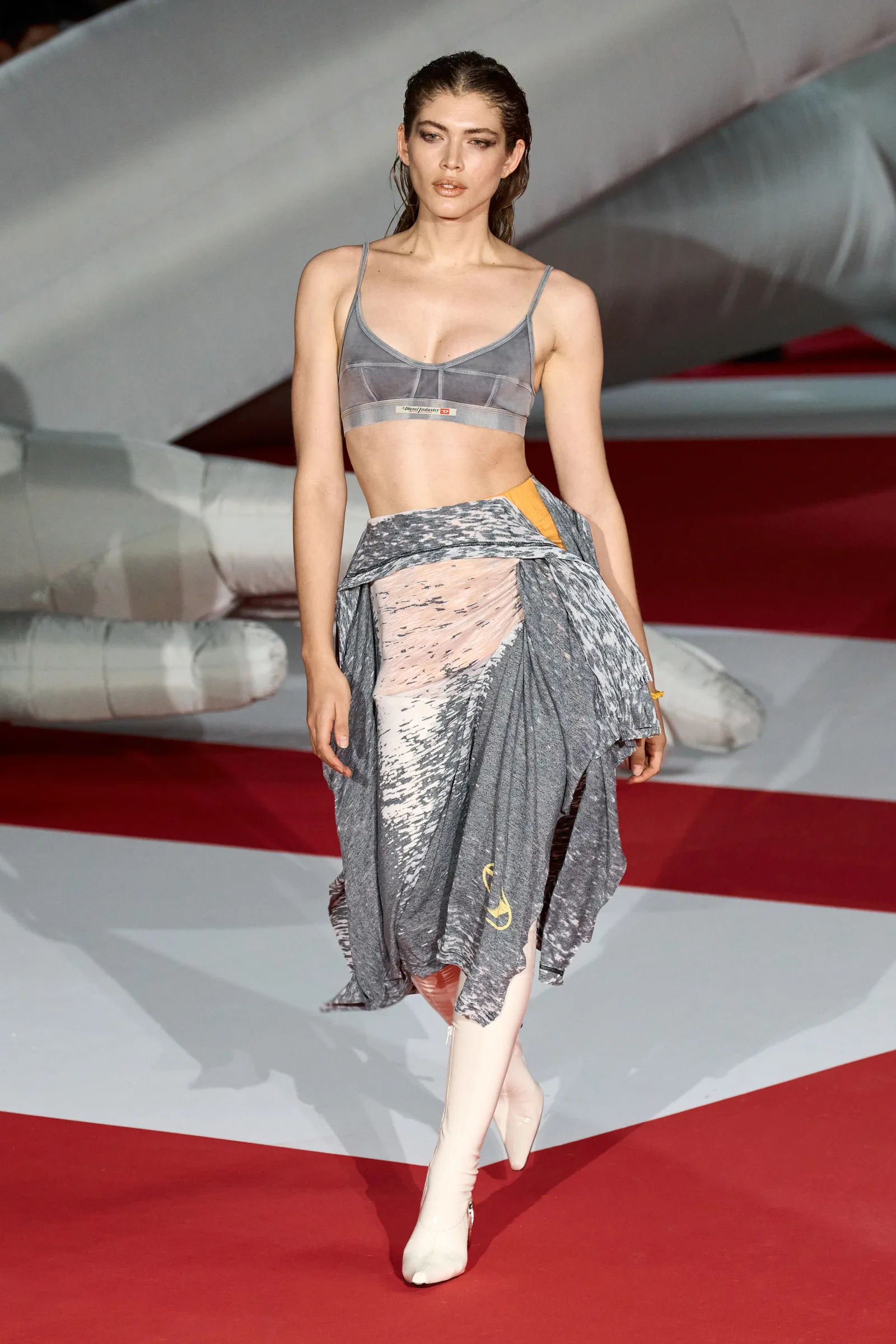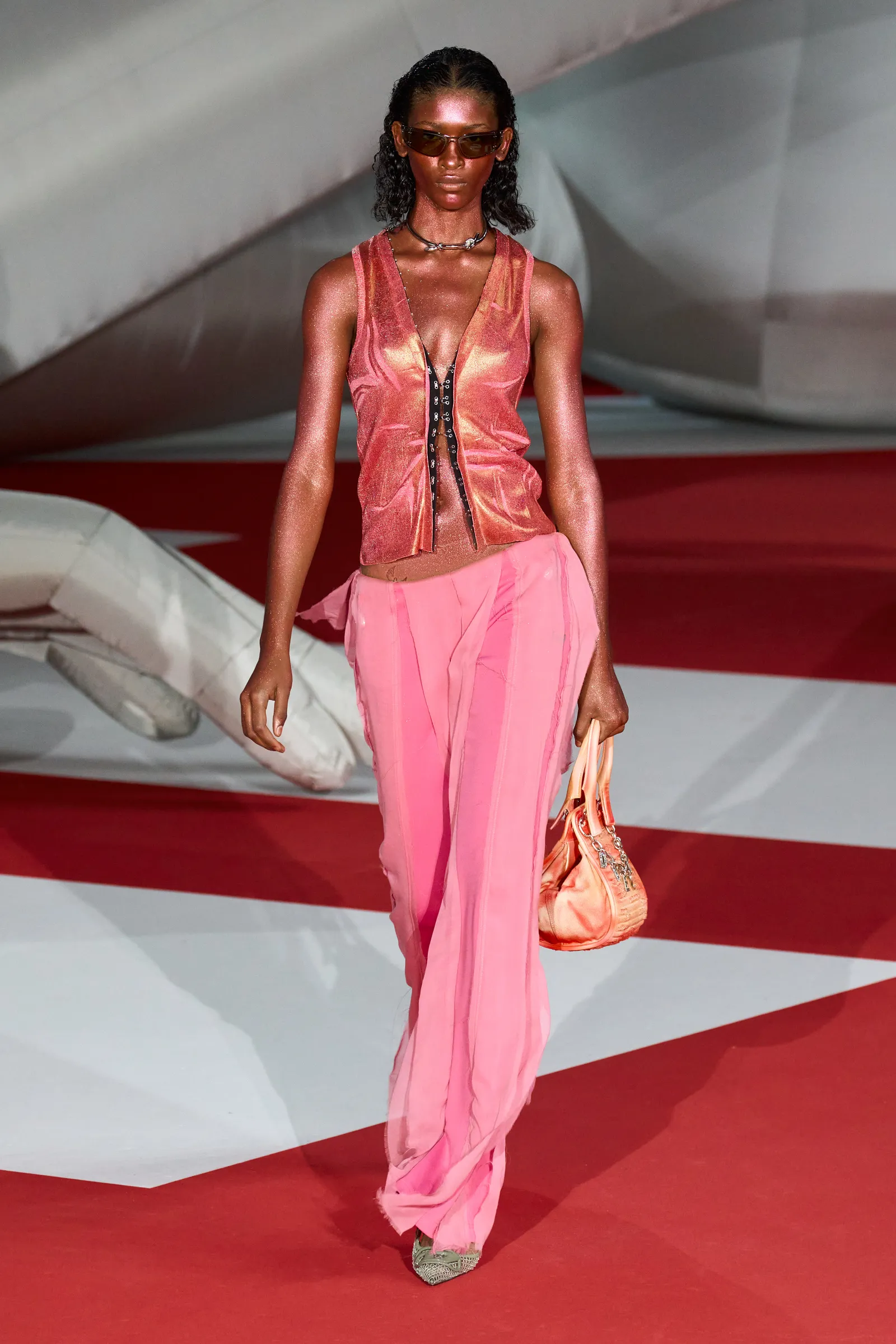 Glenn Martens filled his techno arena on the outskirts of Milan with the world's largest inflatable sculpture. Verified by Guinness, the record-breaking sculpture took the sensual form of an orgy, in a jumble of arms and legs replicating the atmosphere of a night out with friends at Berghain.
A useful invitation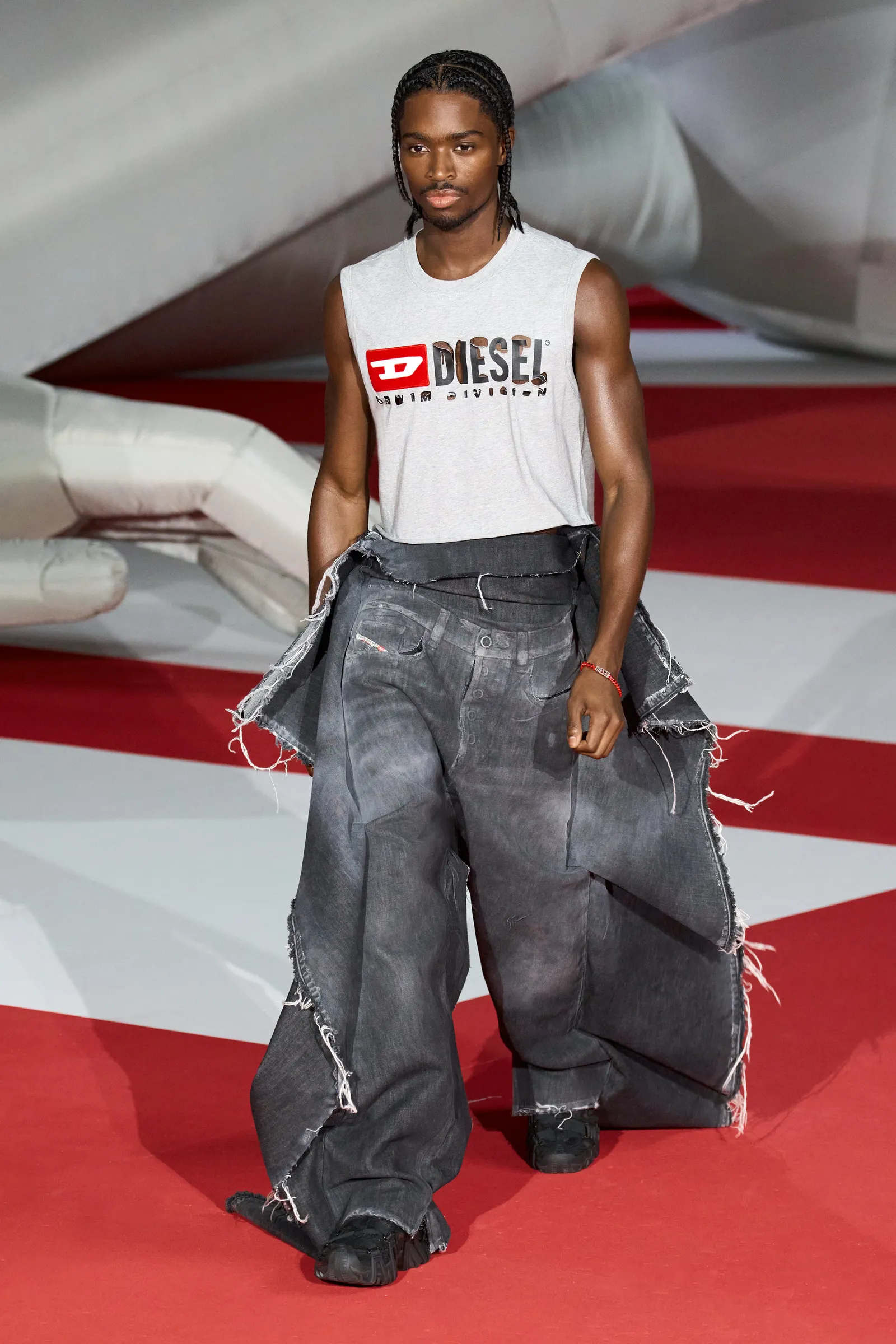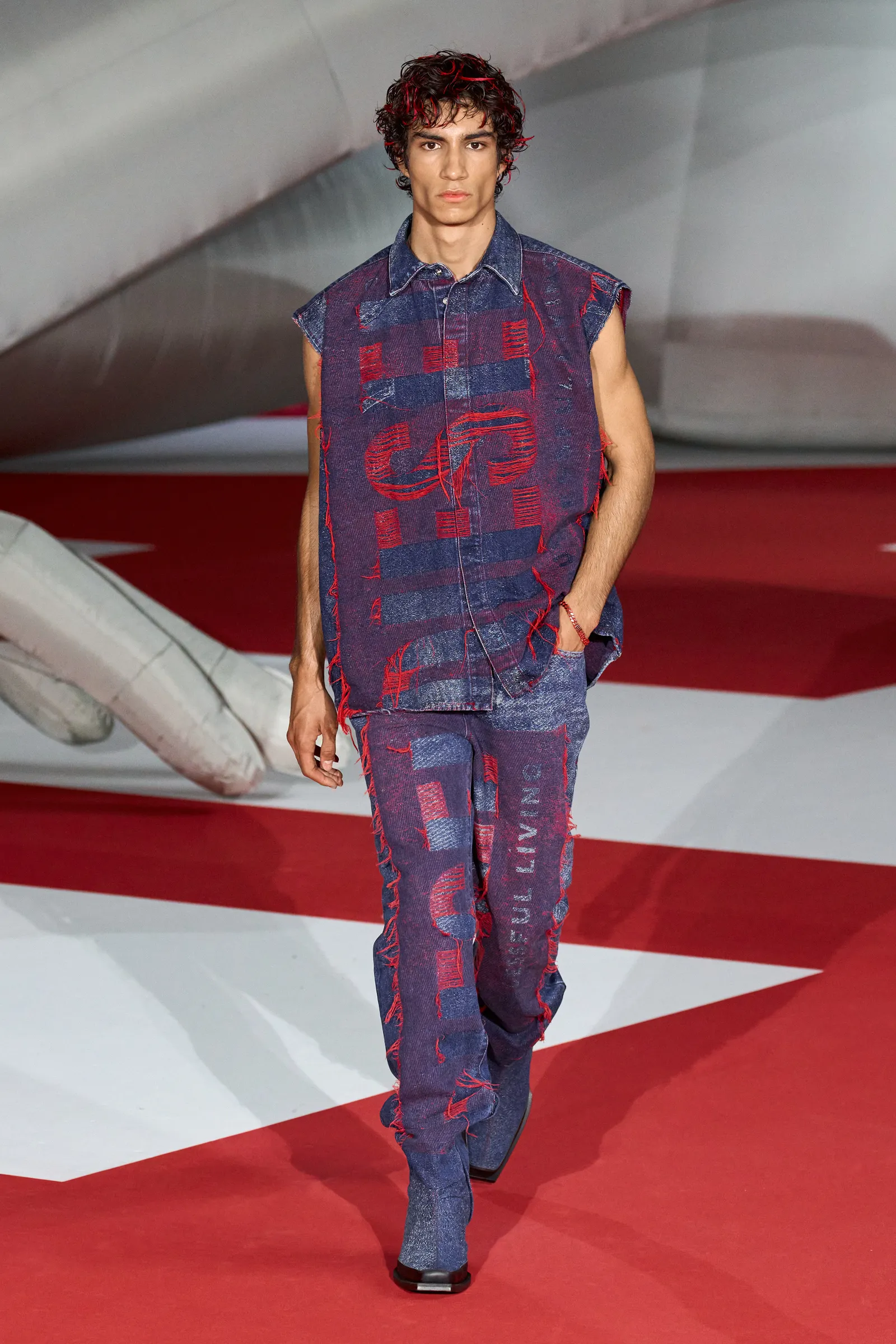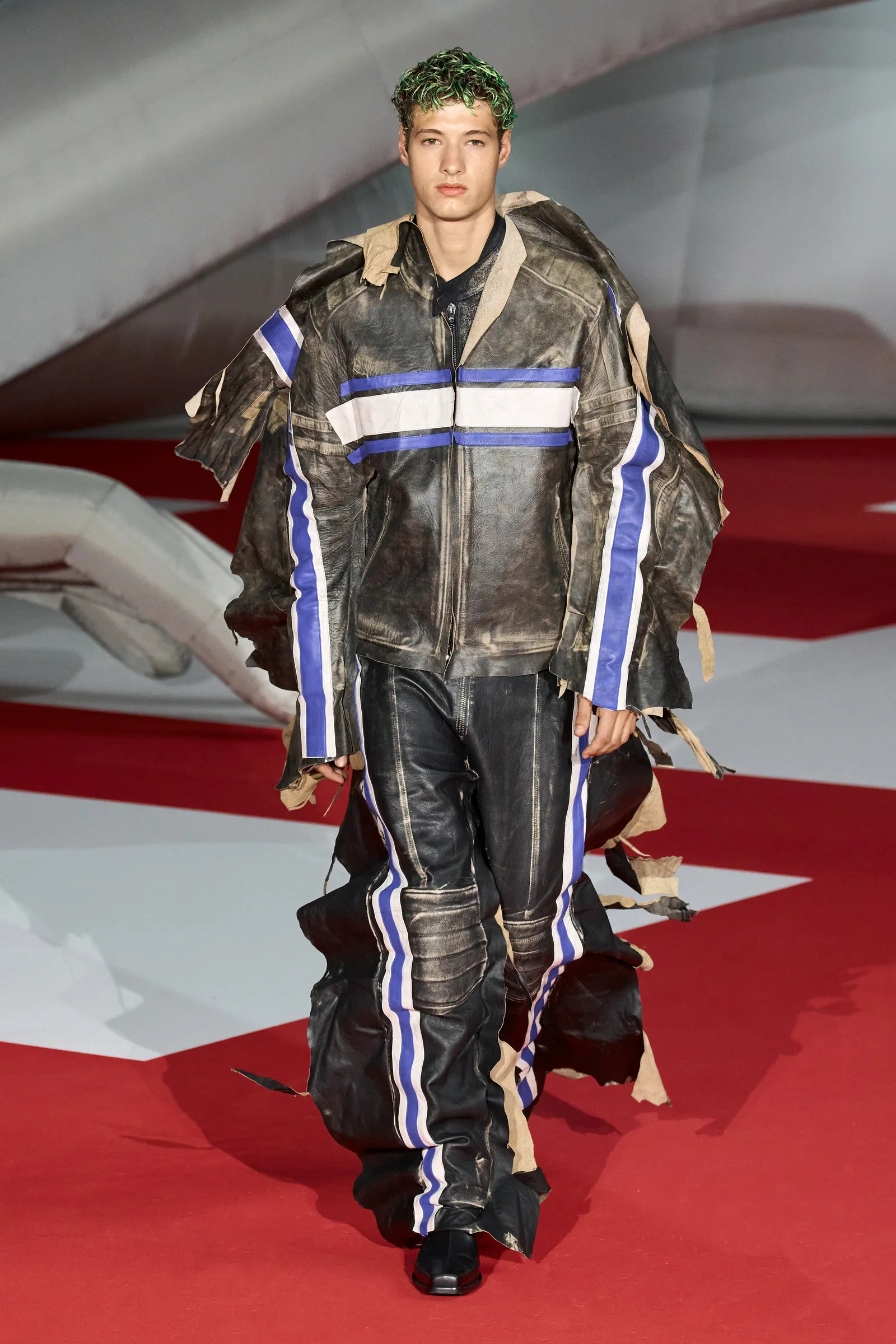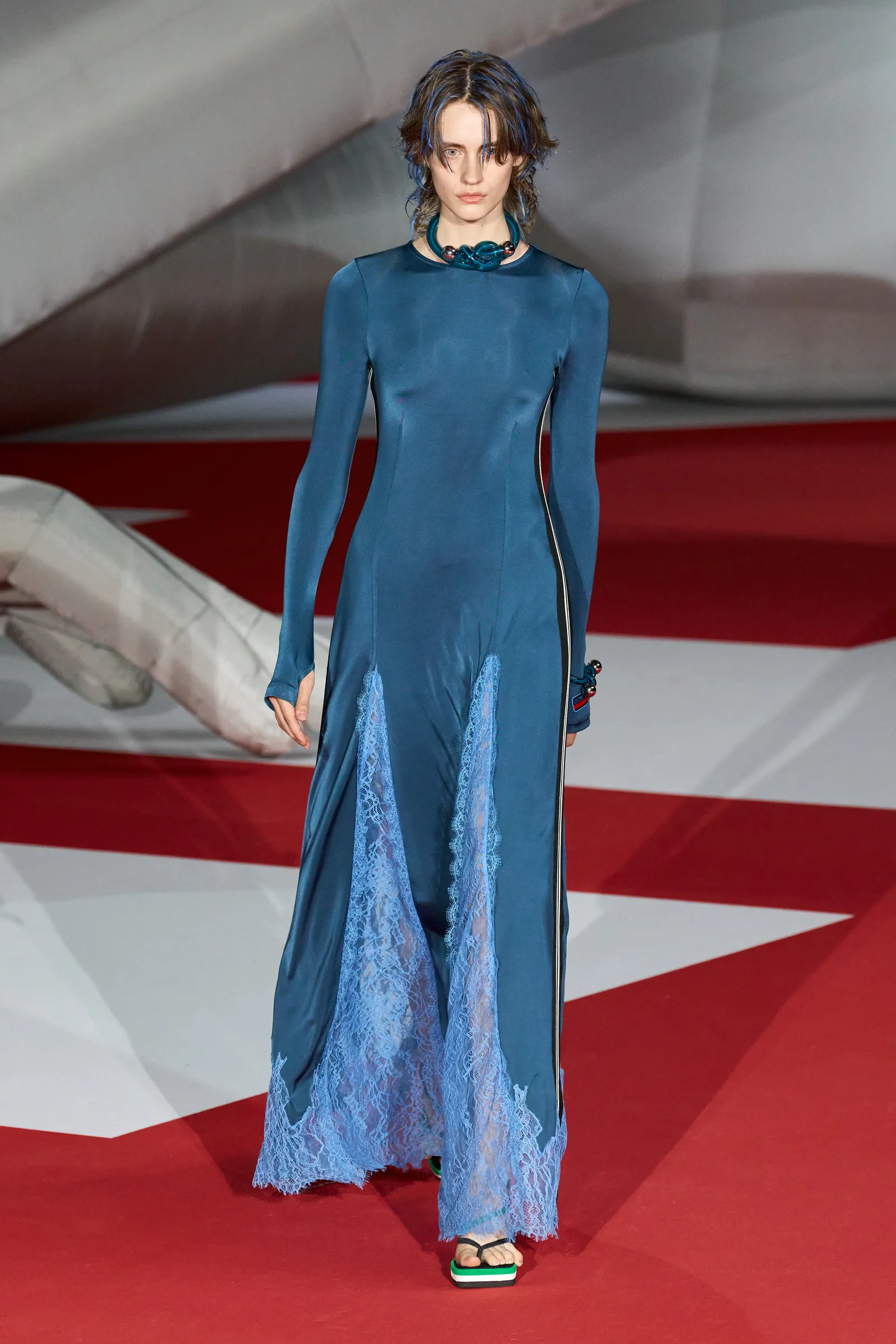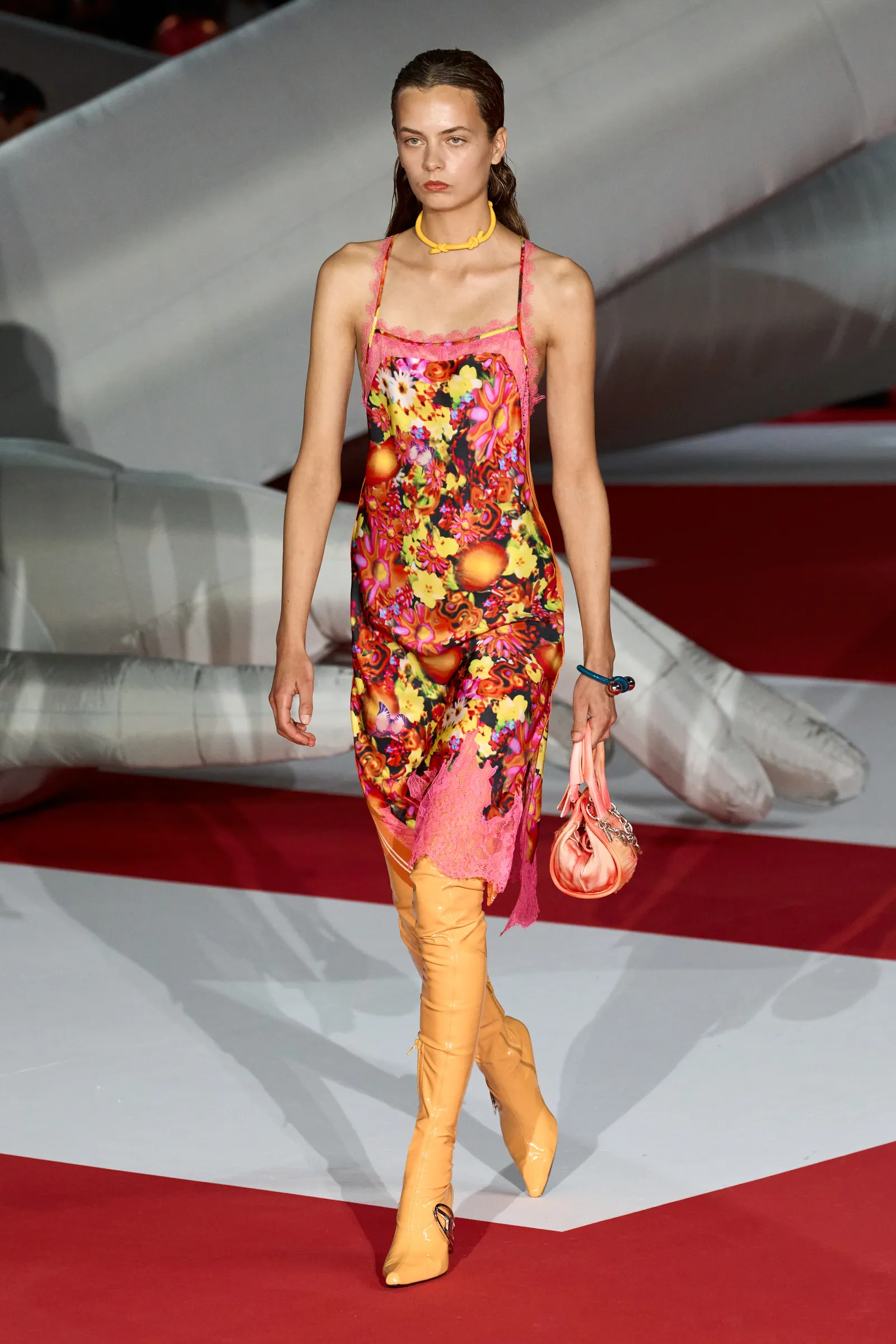 Everything at Diesel, from the looks to the invitations, encourages you to step up the pace of your sex life. The invitation? A red box with an anal plug inside - hilarious viral videos on social media of influencers not recognising the object - accompanied by a free NFT. After a dystopian and surprising FW22 collection, Diesel had actually inaugurated a partnership in the name of sensuality with an exceptional partner, Lelo. Together with the leading Stockholm-based company specialising in sex toys, Diesel designed a co-branded capsule of devices aimed at sexual well-being. A theme, that of sexuality, repeatedly addressed by the brand, which has already played with the subject and made sexual allusion a distinctive feature of its advertising campaigns, as in the case of spring 2021 in which eight couples were photographed by Cheryl Dunn.
Deja-Vu Collection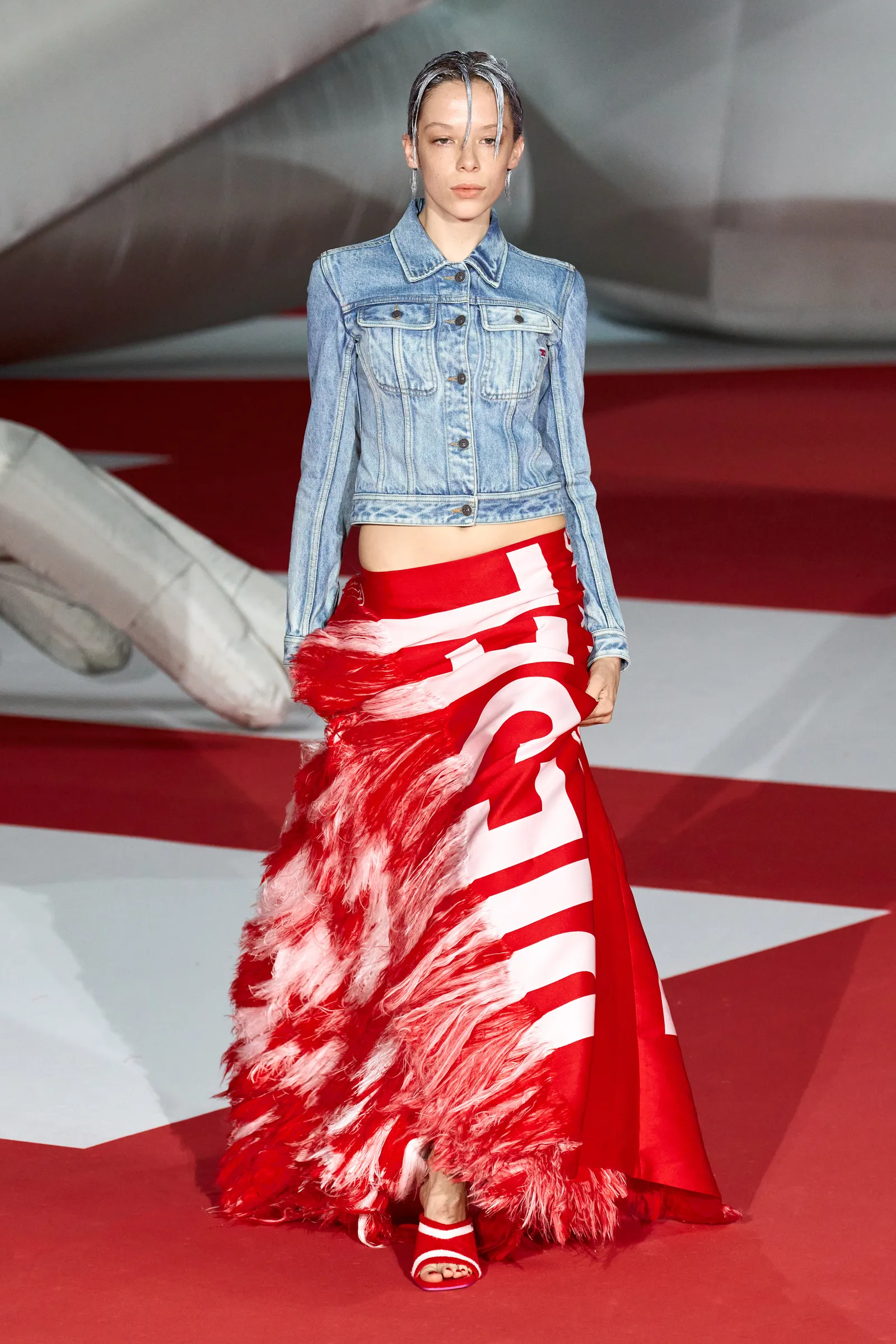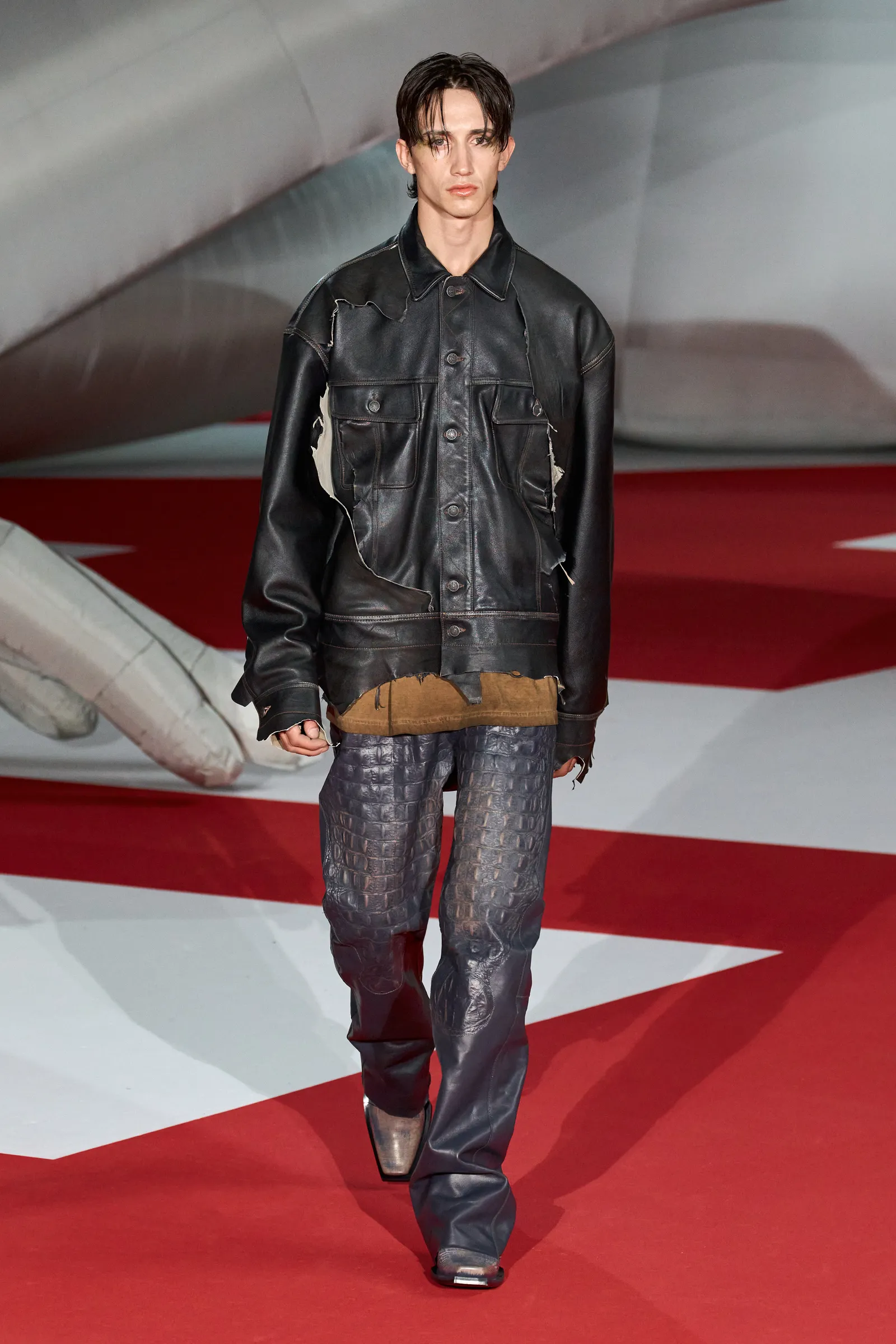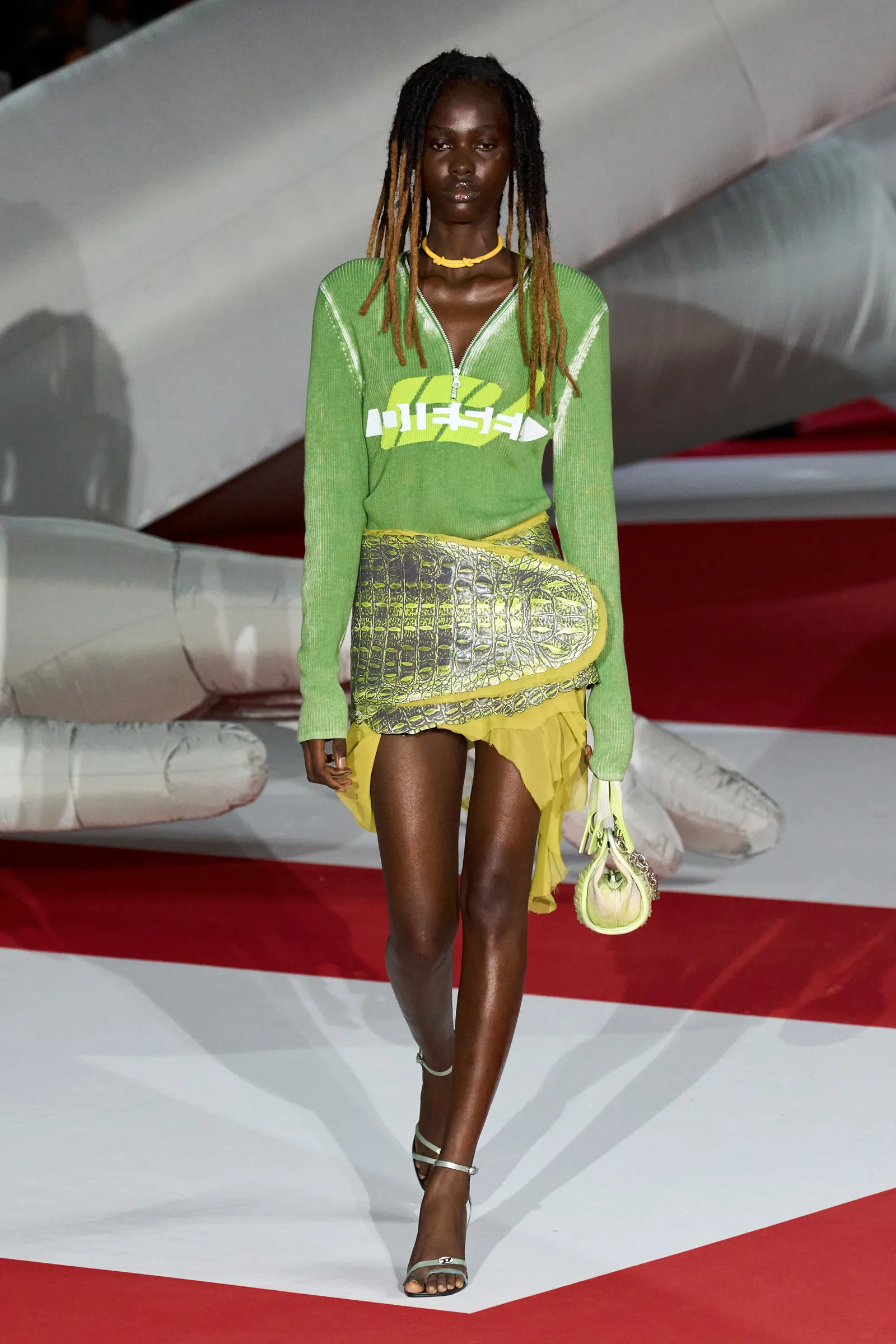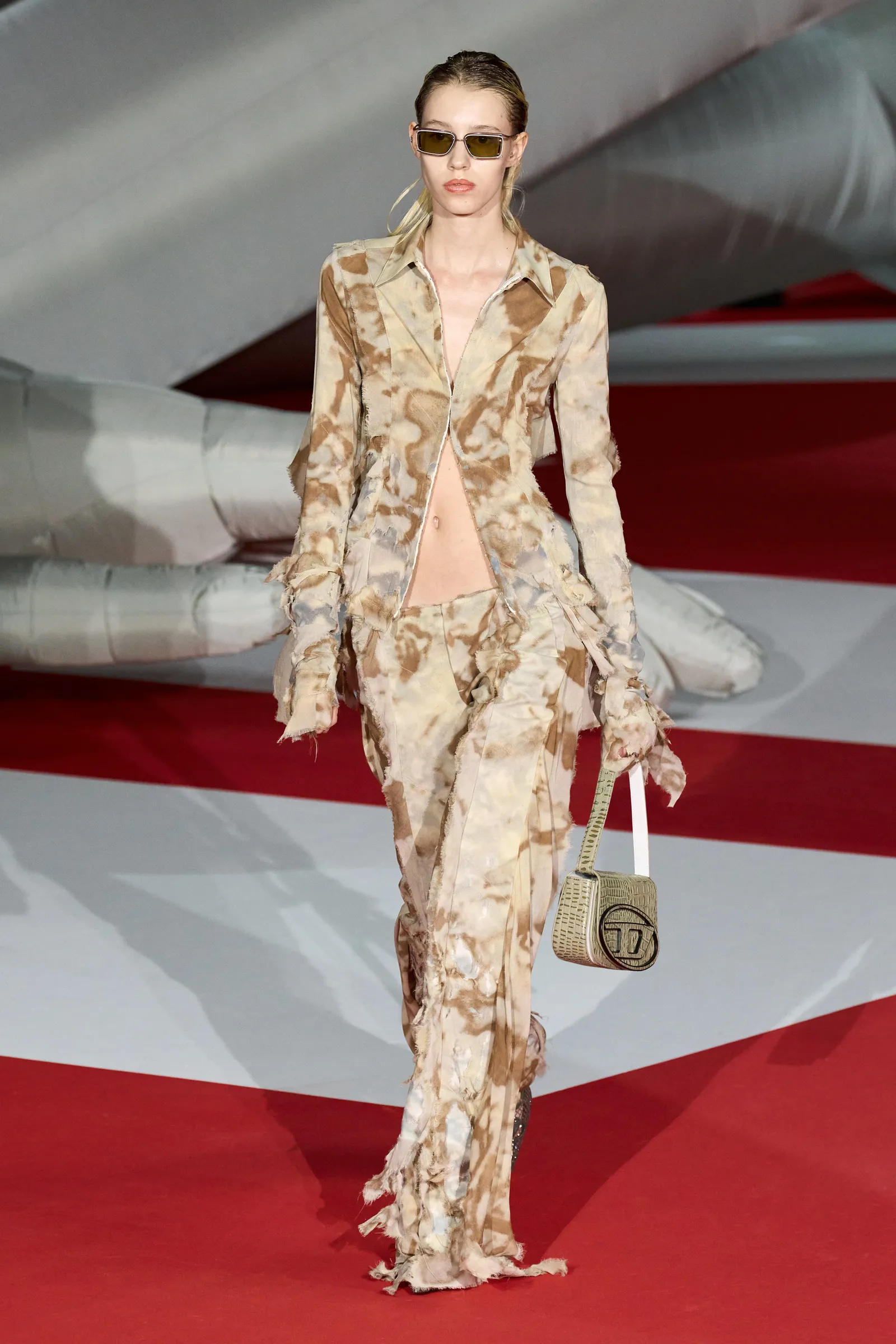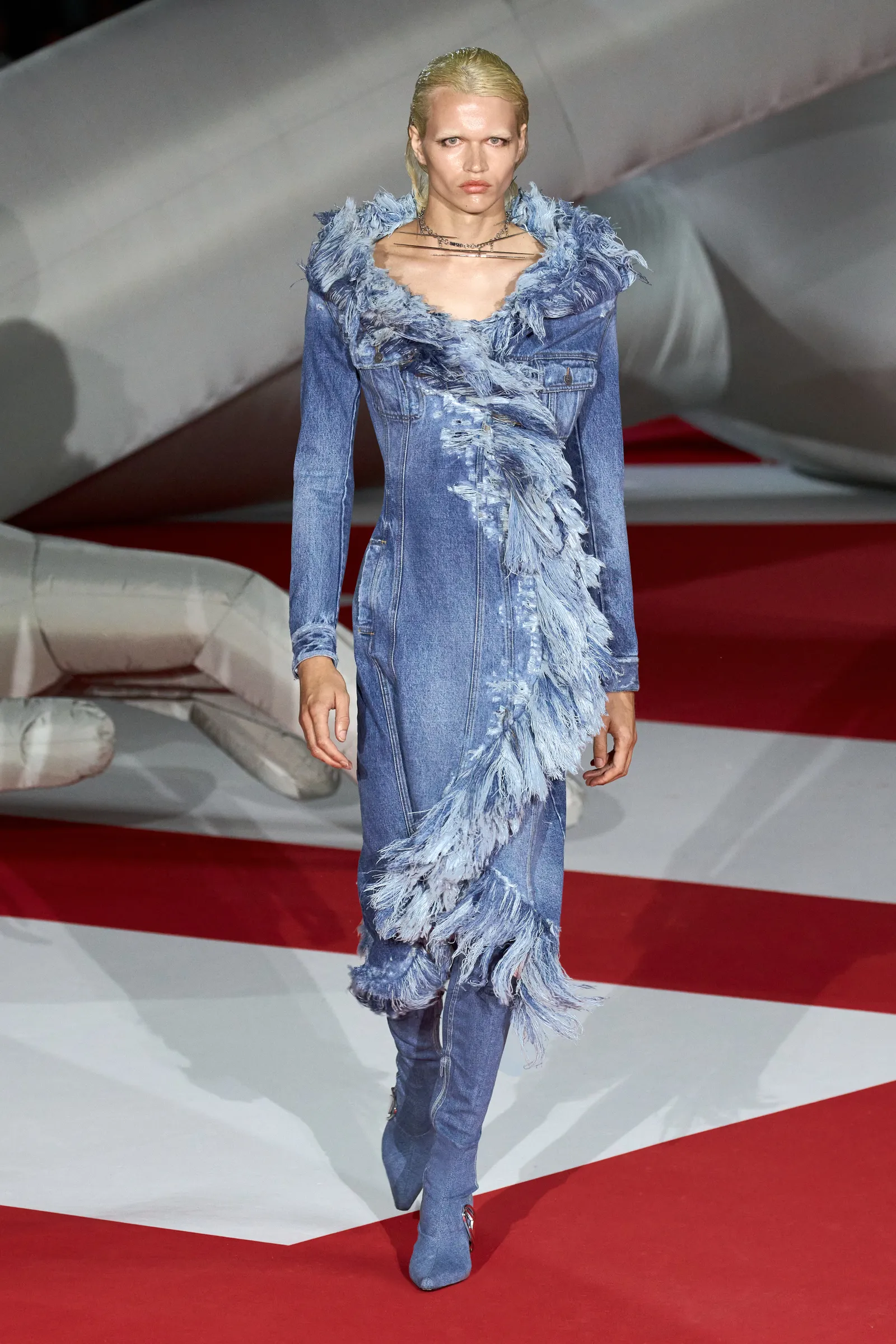 It seems that Glenn foresaw the criticism that his latest collection raised, namely that the garments were, on balance, a synthesis of all the previous ones. In fact, most of the designs from previous collections have remained unchanged in design, with a subtle variation in colour palette and fabrics, such as the iconic belted skirt that has taken on a metallic hue. "I have to speak to all people, so I have to insist," said Martens about his redundant focus on denim in all its forms, utilitarian inflections and the MTV pop aesthetic that has made the brand the perfect uniform for Gen Z parties. The redundancy is therefore to all intents and purposes intentional, a strategy that aims to crystallise the brand's aesthetic in the collective imagination.
Similar but not equal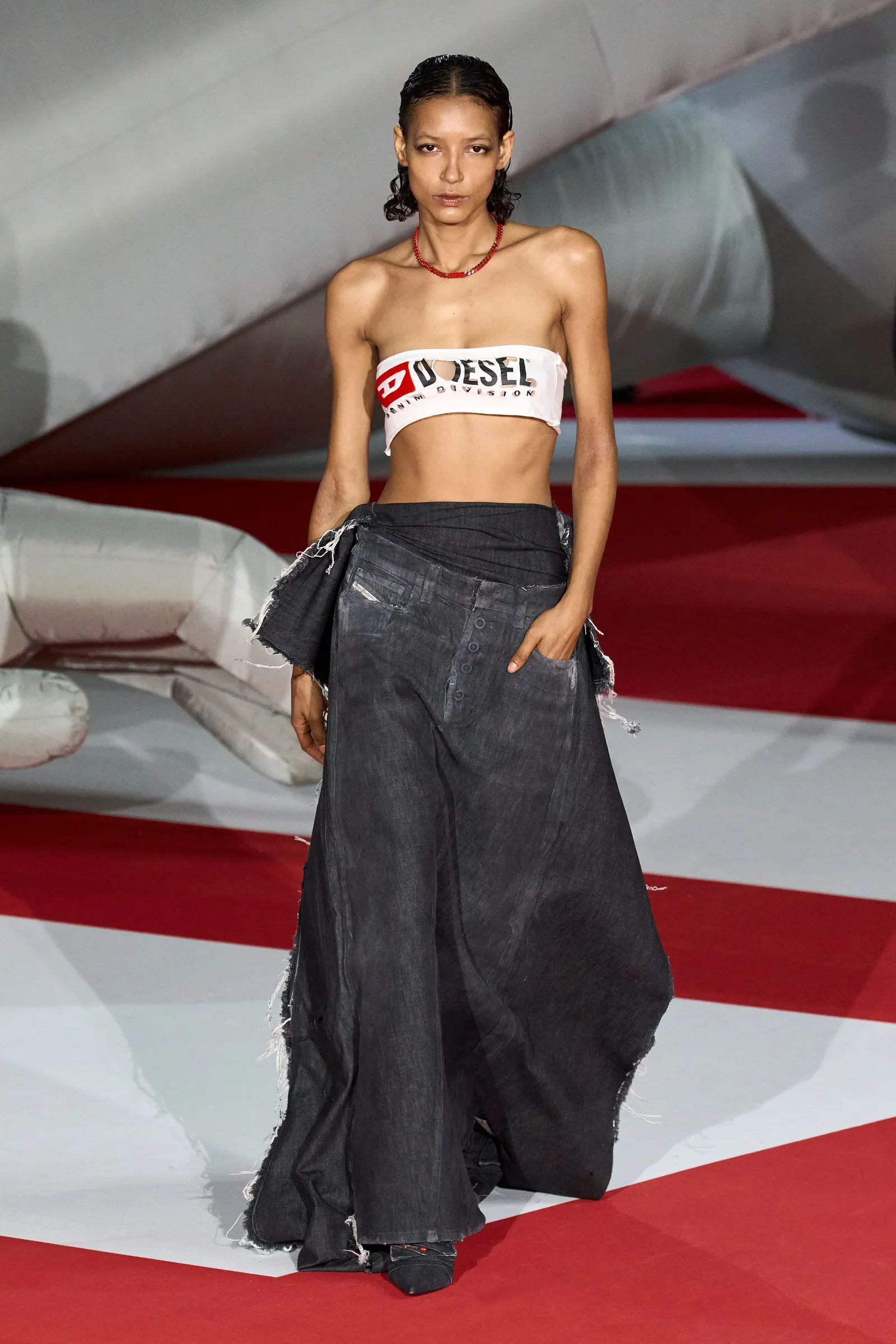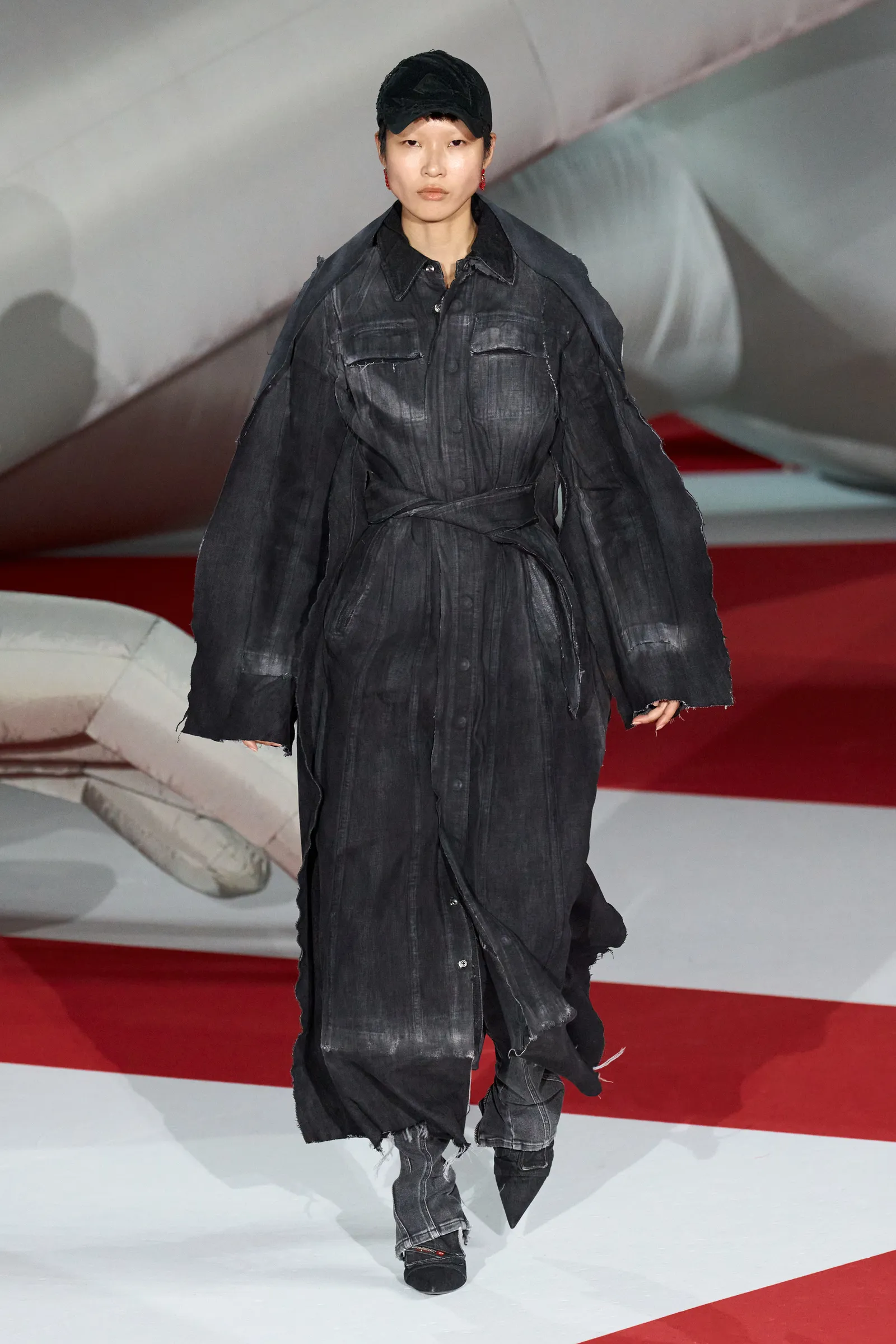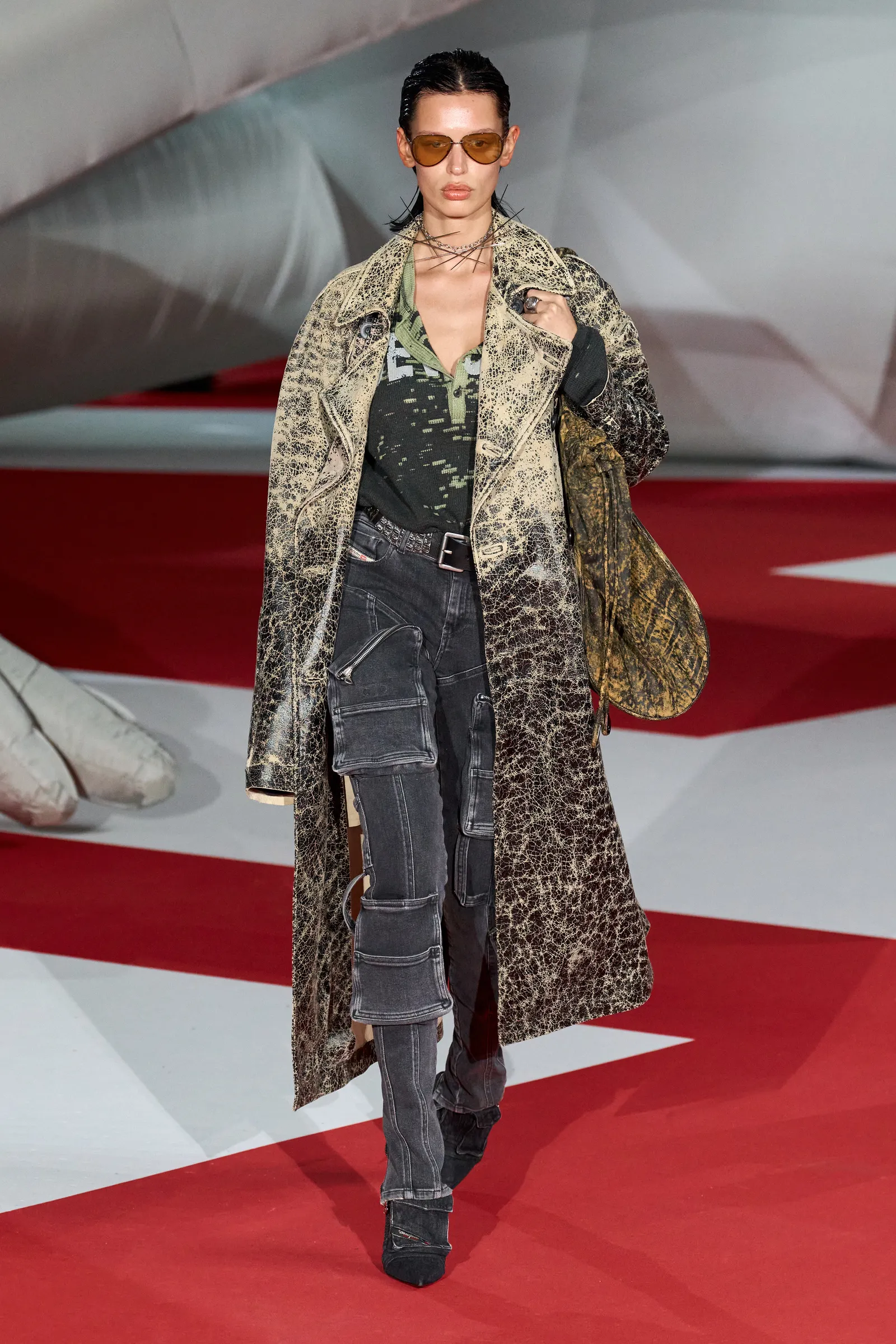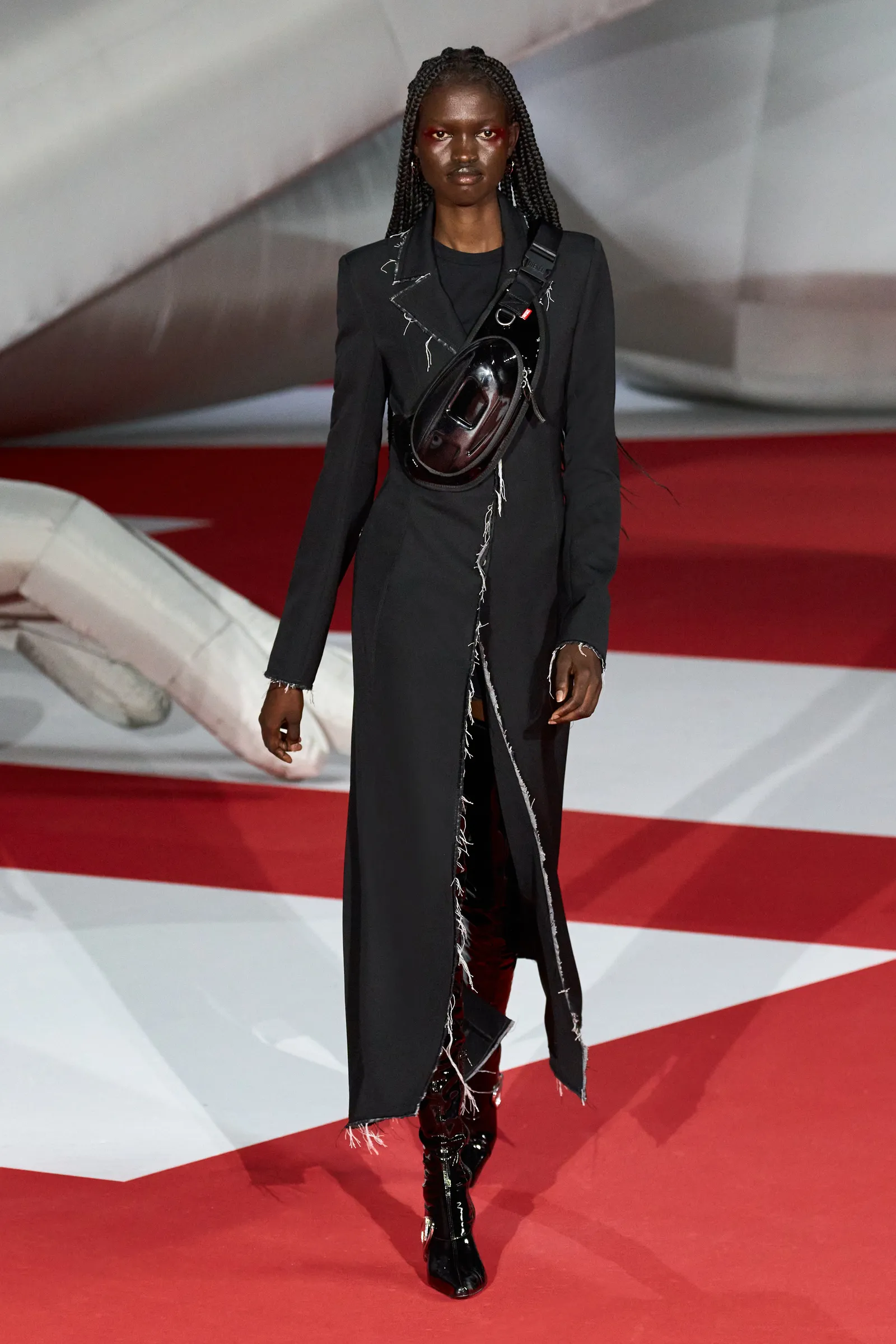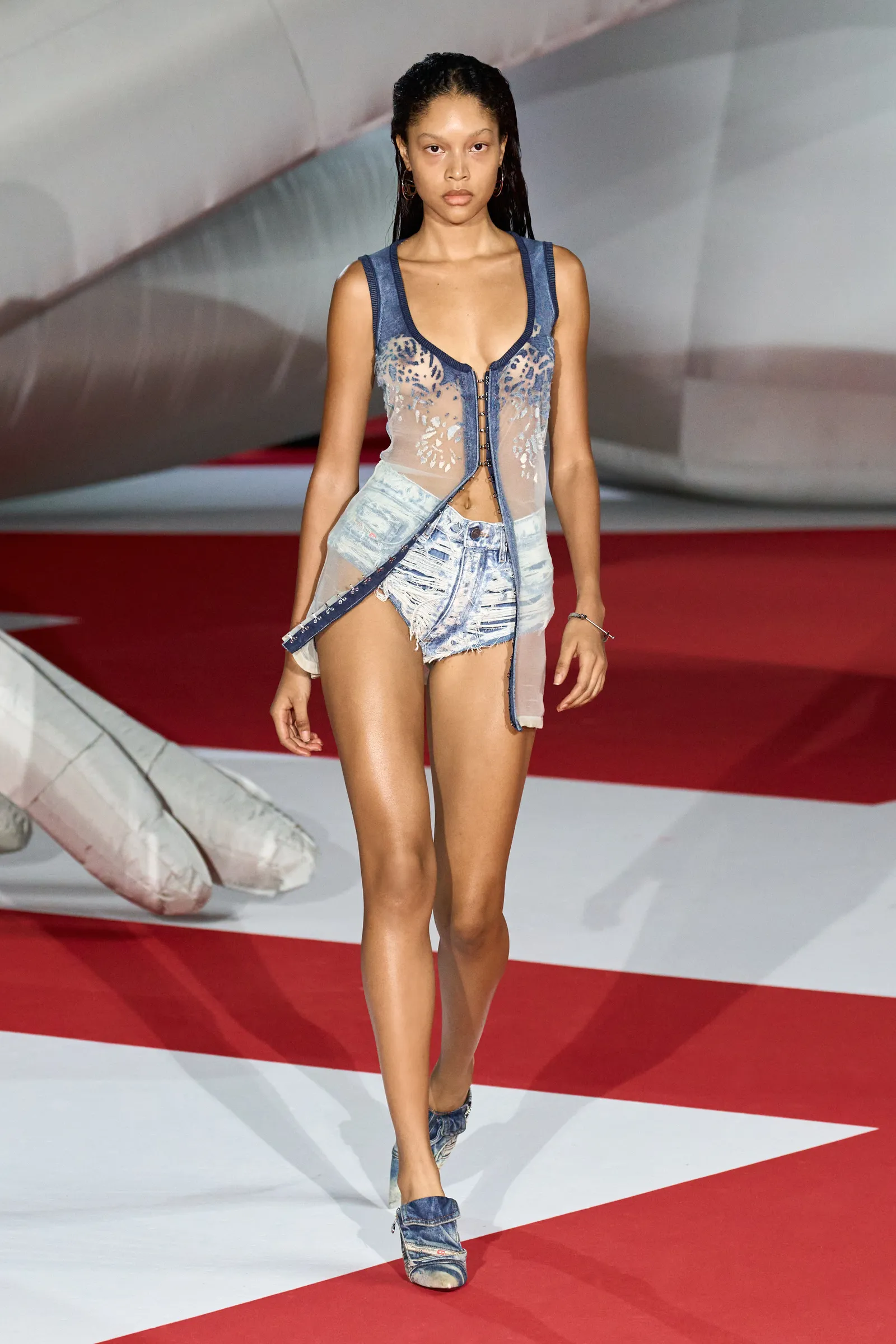 Although within established boundaries, Martens continues to range through fabric manipulation and innovative treatments. Denim fades into organza revealing exposed breasts, cargo jackets and hoodies become increasingly oversized, tulle is layered over coats and skirts to create an unprecedented distressed effect, a jelly-like coating adds a glossy, waterproof patina to a denim anorak, fur made from discarded labels is layered over raw, frayed hems. Diesel's encyclopaedic expertise in denim is expressed to the utmost power: coated with tulle, woven with lace and organza, manipulated into corsets. The washes and treatments are varied, with prints, overlays, contrasting shades: there's jersey denim, knitted denim, flocked denim and fringed denim, whichever way you prefer it Glenn has done it.
Add a seat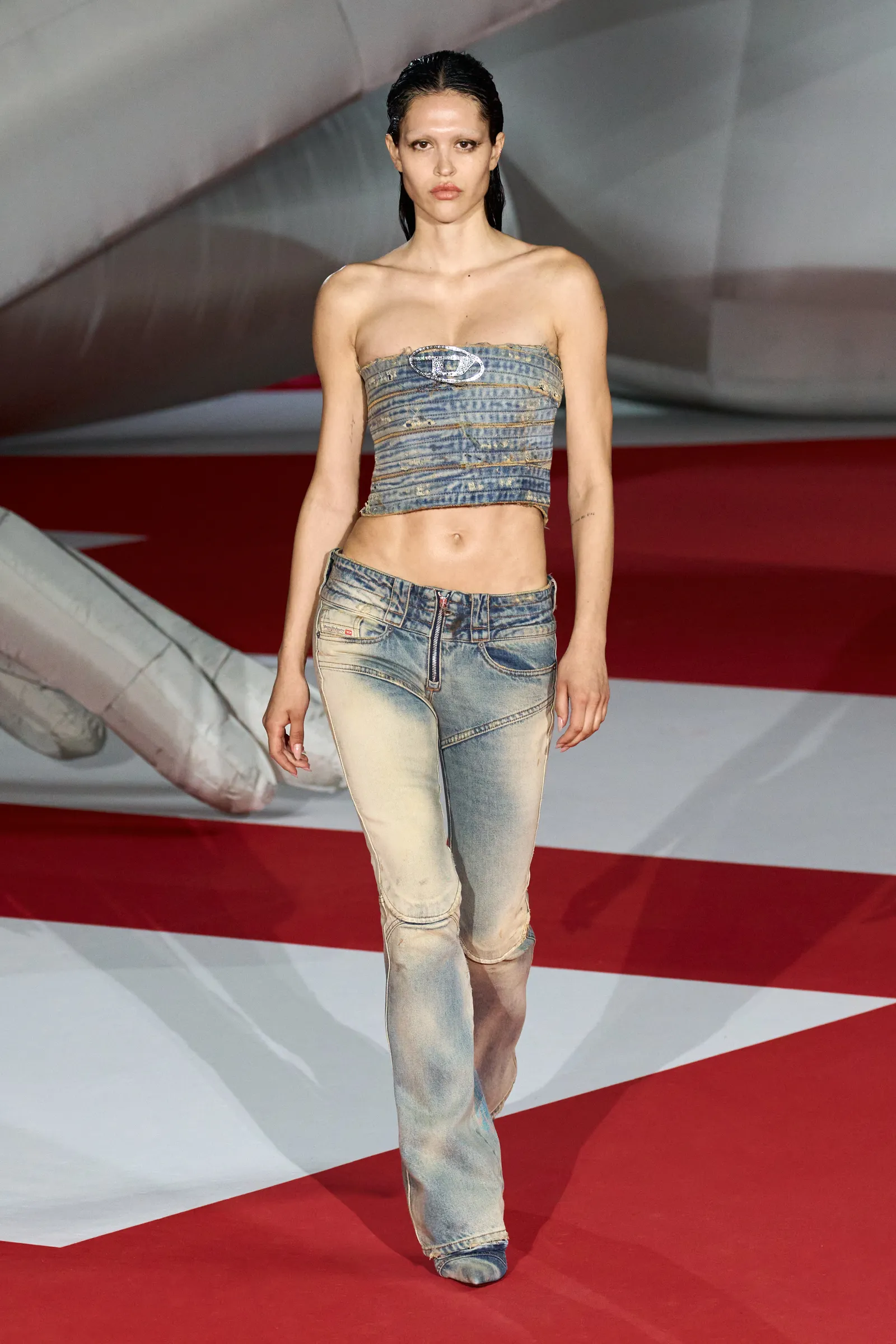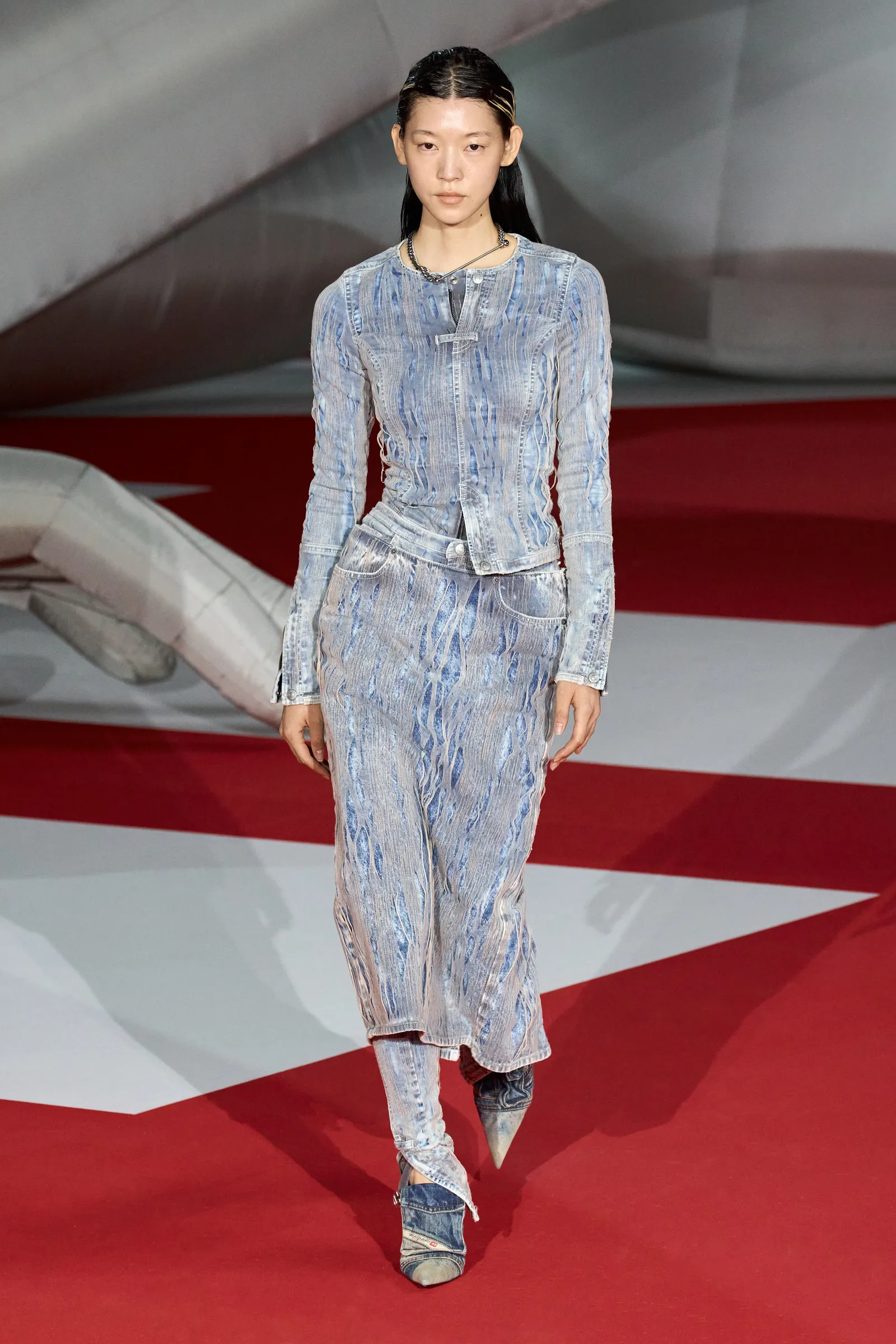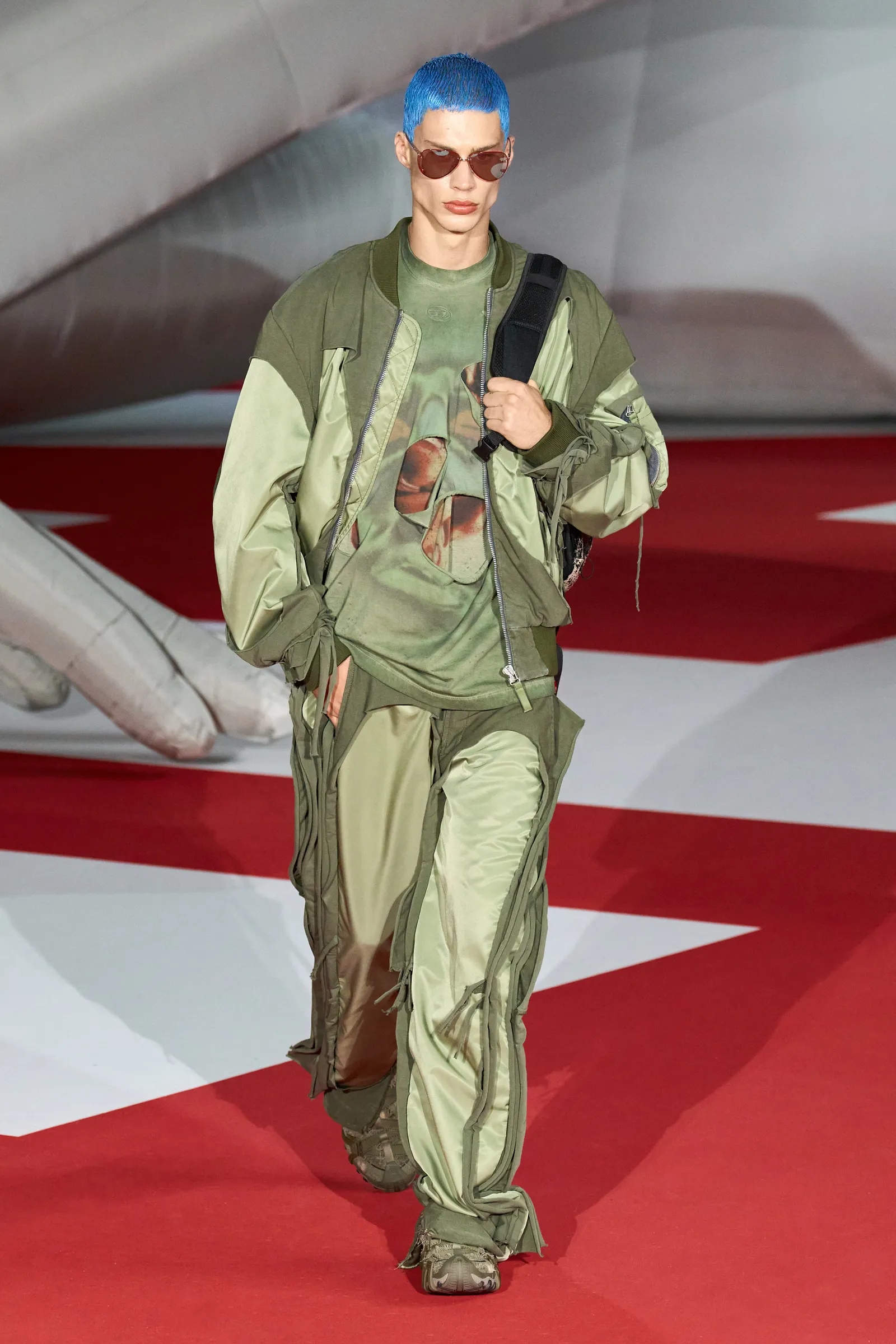 Among those present at the Allianz Club 3,000 people got their tickets for free online, while another 1,600 were reserved for students, insiders and influencers were around 200 people. In the front row Marco Bizzarri of Gucci and Remo Ruffini of Moncler were present to support Renzo Rosso and Martens, as well as Lil Dre, Julia Fox, Bianca Balti, Skepta, Lolo Zouaï, Mahmood and Normani. Diesel is a democratic republic because not only does it offer quality garments at affordable prices, clothes that no matter how extravagant we can imagine ourselves wearing, but thanks to the exceptional capacity of the venue and a stock of tickets available on the website, the catwalks are now open to all.