The designers of the future will come from the Web3
From Roblox to Fortnite, how designers made their way into the Metaverse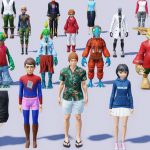 Although awareness of the potential of Web3 is increasing, educating employees and customers remains the biggest hurdle for digital fashion designers. Despite the creators' community earning more than $539 million on Roblox in 2021, with takings of $147.1 million in the first quarter of 2022 alone and a 24 per cent increase over the previous year, "People still act like it's a children's game," confessed virtual accessories designer Samuel Jordan to Vogue Business. Yet, according to market research firm Emarketer, the number of gamers worldwide is expected to surpass three billion by 2022, equivalent to more than a third of the world's population, resulting in an increased interest in fashion in video games through assets and skins. Platforms such as Reblox are spaces where designers can create in complete freedom, achieving often astonishing achievements and attracting the attention of fashion brands, which are constantly looking for new minds to support them in the transition from Web2 to Web3.
A case in point is 22-year-old Samuel Jordan from Florida, who started designing virtual accessories for Roblox three years ago as a hobby, but when demand for his intricate earrings, headgear, hats and virtual clothes increased, he turned his passion into a thriving business. In 2022, he became one of the biggest sellers of Roblox, with 24 million units sold to date, $1 million in revenue for 2021 and collaborations with brands such as Stella McCartney and Forever 21 under his belt. A similar success story is that of Mishi McDuff, a US-based digital designer who founded her virtual brand Blueberry eight years ago after online users noticed the virtual clothes she created for herself to wear in the Second Life Metaverse. In response, McDuff began designing garments for various platforms, earning up to one million euros a year. And, now that with the growth of Roblox users, it has become much easier to monetise digital fashion, Blueberry is expected to reach a turnover of $1.8 million this year.
A similar start-up to Blueberry is Republiqe, a UK-based digital fashion house that designs its own virtual collections for brands such as Coach, adidas, Axel Arigato and Ester Manas to help them enter the gaming, NFT and Web3 dynamics. Before launching his brand, Republiqe founder James Gaubert had a career as a stylist and designer, working with brands such as Bulgari and Louis Vuitton. He only switched to virtual design after spending time in Southeast Asia, where he witnessed the environmental and social impact of physical fashion production while simultaneously watching his teenage son glued to games like Fortnite. Republiqe specialises in transforming brands' physical products into NFT or in-game wearables for a range of games or Metaverse, including Ready Player Me, Decentrland, Zepeto, Sandbox, Fortnite and Roblox, depending on the brand's target audience. "The consumer base of Asos, for example, is quite young, so maybe a route to Roblox or Fortnite is more likely for them" - explains Gaubert - "Coach, on the other hand, has a higher luxury price point, so maybe it's more suited to Decentraland, a high-end market."
For mass-market brands, it makes sense to opt for 'low-value, high-volume' digital fashion, with the potential to sell tens or hundreds of thousands of items as skins in a game like Fortnite at around $1 to $3 a piece, while for luxury, Decentraland is the ideal place to sell digital fashion like NFT at a premium price point of $200 to $2,000 (but in much lower volumes). Now that digital fashion is not only perceived by brands as the NFT transposition of a physical garment, the creative possibilities for designers are endless.