The new edition of Kickit Market arrives in Florence
Sunday 13 March at Stazione Leopolda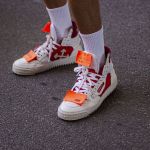 KICKIT arrives in Florence on Sunday 13 March, thus reaching the fourth stage of the tour that will still have two destinations pending. For this first Kickit® Florence, in addition to the renowned trainers and apparel market, there will be many activities dedicated to street culture, including stands of emerging brands, talks with guests from the staff of Luisa Via Roma, 3D modeling workshops and Denim Upcycling with PureDenim.
Philips will present its new object for everyday use, the "trainer cleaner", available to try out at the Kickit® corner, and there will also be the "street basketball tournament" by Space23 sponsored by Givova, with whom KICKIT has also created a special tracksuit in three colours (red, navy and black) inspired by American colleges and the uniforms of Grandma- ster Flash. The console will have wings thanks to Redbull and the line-up will include DJ Master Freez, Sgamo, Angie and resident Sammy Enrico. Visitors will be able to watch the breakdance battle by Smile and Led or visit the edikola kickit® in collaboration with the Parisian bookshop "LE GRAND JEU", where it will be possible to consult the second issue of the Sample_ness style research catalogue, "Politically Punk". In support of the launch, 24 posters with images from the catalogue will be displayed. For the Art category, there will be a live painting by Andrea Bruci, who will address the theme of the Russia-Ukraine conflict with a message of unity and respect for others, and, to close the chain, a corner dedicated to Ale Bellani tattoos.
The new edition of KickIt Florence will be held Sunday, March 13, 2022 from 11:00 to 19:00 at the Stazione Leopolda in Florence.