How StockX changed streetwear
This was discussed in the seventh episode of the second season of The SneakerPod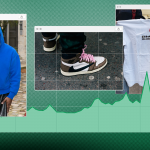 Raise your hand if you haven't bought at least once from StockX. There are few sneaker and streetwear enthusiasts who in their collecting career have never had the thrill of raising a bid on a StockX auction, of feeling that little irrational joy when a seller accepts your offer. But behind our cops made while we're quietly sitting on the couch at home, there's a whole world going on behind that name we've all come to know.
From the authenticators, committed to dividing fakes from originals, to all the other figures that are part of the world of StockX, from its foundation in 2016 to today the site has expanded its horizons by adapting to the changes in the market: not only sneakers and streetwear, but also collectibles of all kinds, from Pokémon cards to comics, without forgetting some phenomena such as consoles, which have also become part of that world in which everything is produced in limited editions. Mirror of the market then, which in many cases has become the safe harbor in which to cup regional exclusives, as in the case of many merch released in recent years, or legendary sneakers and unobtainable collectors' grail.
To better understand the world of StockX we talked about it with
Mattia Rinieri
and
Adriano Arpino
from
StockX
, in the seventh episode of the second season of
The
SneakerPod
, the
nss magazine
podcast produced in collaboration with
StockX
. In addition, to celebrate Christmas, nss magazine gives you a
Yeezy Gap hoodie
. Participate is simple, just comment on our Instagram post tagging your friends and Youtube video with color and size of the hoodie you would like to win. The more you comment, the more chances you have to win, so good luck!