Nigo is the new Artistic Director of Kenzo
The founder of BAPE takes over from Felipe Oliveira Baptista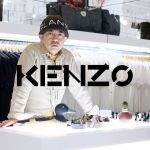 Founder of A Bathing Ape and one of the most important names in streetwear, Nigo has been chosen as the new artistic director of Kenzo. Always a collector of the French brand, Nigo arrives shortly after the appointment of the new CEO Sylvain Blanc in a plan to relaunch the brand following the departure of Felipe Oliveira Baptista, the Portuguese designer crucial in the development of an artistic touch in the brand's collections.
Nigo's choice seems to want to go in the opposite direction, recalling in many respects the one made by Louis Vuitton with Virgil Abloh and more recently by Givenchy with Matthew Williams. In addition to his deep knowledge of the history of the brand, Nigo will bring to Kenzo years of experience in the streetwear world, from the collaborations with Pharrell Williams to the launch of the Billionaire Boys Club and Human Made. Last year Nigo had collaborated with Louis Vuitton for a capsule created together with his friend Virgil Abloh.
While the appointment will become effective as early as next week, we will have to wait for Paris Fashion Week in January to be able to see the first creations of the Japanese designer.