Swatch flies into space with its new collection
A tribute to NASA and its spacesuits
If the sky has no limits, the same goes for Swatch's fantasy. For its new collection, the Swiss brand was inspired by the charm of NASA, from the suits to its missions in space, to give life to the Space Collection. The absolute protagonist is the BIOCERAMIC Swatch, which thanks to the composition for two thirds in ceramic and one third in biogenerated plastic, gives a velvety touch sensation together with an extraordinary resistance.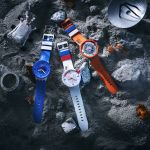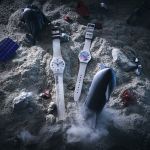 Three of the five watches that are part of the collection were made using a Bio-Sourced material, also taking inspiration from the spacesuits worn by NASA astronauts. The Big Bold Chrono Extravehicular is inspired by the iconic white spacesuit first worn in 1983 by Story Musgrave and Donald Peterson, while the Big Bold Chrono Launch takes up the orange Advanced Crew Escape Suit, also known as the "Pumpkin Suit" . The Big Bold Jumpsuit instead incorporates the blue jumpsuits worn by astronauts in their daily activities, from press conferences to internal work in NASA. The Take Me to the Moon New Gent and Space Race Gent models conclude the collection, while an exclusive set will soon be available that will also include a Flik Flak.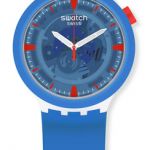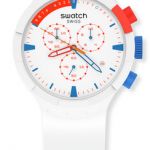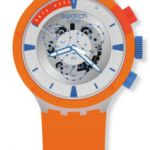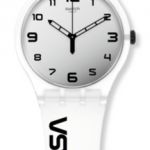 In addition, to celebrate the launch of the Space Collection, available online and in store, Swatch has launched an Instagram filter that will allow you to challenge yourself in the space between meteorites and watches. You can find it here.