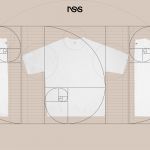 What do Marlon Brando, Jane Birkin, James Dean, Karl Lagerfeld and your neighbor have in common? Everyone, at least once in their life, has worn a white t-shirt. From the Middle Ages to the boom in the 90s, to the success of essential basics in fashion, it's the item that has gone through centuries of the fashion system, becoming a witness and in many cases an icon. We all have at least one in our closet. A basic garment according to some but essential according to others. Regardless of the term you want to use, we are talking about a must-have with a spot in every wardrobe, an unaware champion of genderless clothing that over the years has dressed everyone: from celebrities to our parents, ideally representing a minimum common denominator capable of combining every style and every need.
This is why UNIQLO has perfected the fits of its t-shirts, working on proportions and measurements with millimeter expertise in the folds of the golden section to find the tees that can adapt to all fits. Those looking for a comfortable fit can choose the Oversized and those who do not want to exaggerate will find bread for their teeth in the Relaxed fit, while if you are more a traditionalist you will feel at home with the Fitted ones. An almost unlimited choice, in which the proverbial relationship between quantity and quality is canceled thanks to three tees united by UNIQLO quality.
Fitted
When we talk about white t-shirts we talk about Fitted, the real starting point for any self-respecting wardrobe. Its classic fit makes it the perfect choice for those who want an item capable of adapting to all needs: casual in its simplest form but also more formal if worn under a jacket instead of a shirt. If the length of the sleeve must not exceed 22 cm, the maximum width of 53 cm gives it a snug fit capable of enhancing the shape of the body. The DRY technology present in the Dry Color T-Shirt also makes it suitable for physical activity, transforming it into the perfect tee for all occasions.
Styling tips:
If you are a fan of the 90s you can slip it into your favorite jeans to immediately become Brad Pitt and Cameron Diaz of the golden times.
Borrow your parents' wardrobe to match it with a blazer or a jacket.
When the sporty spirit calls you can combine it with your favorite activewear, UNIQLO has thought of that too.
Oversized
To be perfect, an oversized t-shirt must meet two simple characteristics: be wide and be short. 60 cm long and 55 cm wide, the Uniqlo U Oversized T-Shirt responds perfectly to these characteristics, immediately becoming the must-have for any self-respecting streetwear outfit. Furthermore, thanks to the unique materials used by UNIQLO, the t-shirt will be perfect after each wash, ready to be worn without having to go through the iron. What's better? Obviously, its long-sleeved version.
Styling tips:
To be paired with the latest sneaker you copped, even better if paired with wide trousers that respect the volume of the tee.
Don't be afraid to be daring with the right mix of necklaces and accessories capable of giving your t-shirt an extra edge.
If, on the other hand, you prefer to use it more discreetly, the advice is to put it under your favorite hoodie as only Kanye West could do.
Relaxed
If you are convinced that the truth lies in the middle then the Relaxed fit is the right one for you. Some would call it comfortable, but it would probably be unfair to minimize the importance of an essential tee for all your more whimsical combinations. In addition to a one-of-a-kind collar, the Raglan T-Shirt can count on its wide 44 cm sleeves combined with a relaxed fit of its 57.5 cm wide. If, on the other hand, you prefer a more classic shape, the T-Shirt + J is for you: 73.5 cm long, it can count on all the quality of Supima cotton and the weight of a name like that of Jil Sander.
Styling tips:
It is perfect under a formal shirt in pastel colors, for a casual look suitable for any occasion.
It reaches the maximum of its potential combined with a knitted vest capable of highlighting the Raglan sleeves.
If, on the other hand, you love simplicity, the J + T-Shirt will be the perfect companion for your basic outfits using its length to create a unique outfit. When simplicity pays off.