A designer earned $3.1 million with NFT sneakers
With only 600 pairs sold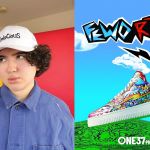 The brand of virtual sneakers RTFKT Studios has teamed up with a rising digital designer of just 18 years, known as FEWOCiOUS, to work on a limited collection of 600 NFT sneakers accompanied by two different merch ranges. The collection generated sales of $3.1 million in just seven minutes. The items in the collection were sold at auction through the blockchain. Shoppers had the chance to try out the sneaker via augmented reality on Snapchat and also the chance to get a physical copy of it but the designers themselves pointed out that the real value lies in the digital versions of the products. The founders of RTFKT Studios said:
We wanted to show people the future, and we made it happen. This collab is the result of a perfect alignment of all the culture we love and know.
The resell price for this NFT collection is already skyrocketing: a pair of sneakers are on sale on Nifty Gateway for $18,800 while accessories originally sold for $1500 have already sold for $5000. These numbers are a testimony to the enormous relevance achieved by crypto-art and FT in recent times in the art market – a world that, as we wrote a few days ago, can have many interesting implications for the fashion world both for the field of digital fashion, for that of reselling and certification of garments.