Fred Perry's new Milanese community
8 creators narrate Milan through the iconic M3600 polo shirt
Few items in fashion history have enjoyed a success as enduring and transversal as Fred Perry's famous M3600 polo shirt, a universal symbol of Europe's major youth subcultures, from English Mods to punks and the Brit Pop generation. Fred Perry's story, however, is not only about the past but also and above all about the future – a future that also winds through that cultural and creative hub that has become Milan in recent years. The polo is then proposed through a campaign that enhances all the thousand identity facets. As Alexandra Pfeifer, head of marketing at Socrep, Fred Perry's distributor for Italy, points out:
«Wearing our laurel wreath means belonging to a group of free spirits and allows you to express your identity, with your way of being, without fear of being part of the minority».
It is precisely for this reason that the brand has decided to entrust the storytelling surrounding its M3600 pole to a new Milanese community of ambassadors capable of interpreting fred perry's extraordinary heritage in its own way.
Models Agata Paulina Grzeczny, Lina Giselle and Jean Chang; artist Alessandro Malossi, stylist and content creator Alessandro Benvenuti, dancer Anita Lorusso; DJ, producer and creative director Marvely Perseverance Goma and singer Afef Jmili are the new eight faces chosen by Fred Perry to tell the new generation of Milanese creators – an optimistic, multicultural generation eager to inspire a change in society. They will interpret fred perry's world with their own style and history and each of them will contribute a new piece to the new, modern identity of the M3600 pole. As Marvely Perseverance Goma pointed out, he told nss magazine the story of her love of Fred Perry's polo shirt:
«The Fred Perry polo shirt is a timeless classic, a symbol of belonging and individuality. For me it was just that, the freest expression of who I am. After watching a concert in The Streets I thought Mike Skinner was too stylish so I bought myself his own black polo shirt. It was 2006 I think».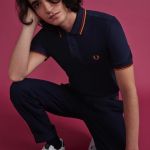 In light of the very long history of the Fred Perry polo shirt (the original model, called M3 to distinguish it from the new versions dates back to 1952), the brand's new local initiative wants to push the accelerator on the identity and symbolic aspect of the iconic Laurel Wreath, making it classic but anti-establishment, elegant but also casual, personal but also collective. Alessandro Mallossi, one of the talent protagonists of the project, summed up with these words the versatility of the garment:
«Fred Perry's polo is that piece that any of us have or had in our closet. A garment that where you put stands, and can be both valued and dedramatized with any outftit».
Rethinking it for the world of 2020, the brand's creatives have maintained the construction in soft cotton piquet with two-button closure and twin tipping on the sleeves and collar but made the fit and proportions more contemporary. The campaign also enhances Fred Perry's role in fashion history, as a brand that has never changed its course or bowed to any trend, and its iconic pole that celebrates authenticity, individuality and diversity.