Li-Ning and Soulland announce their collaboration
The Chinese giant and the Danish brand join forces for two running silhouettes
Soulland and Li-Ning are working together on a new project focused on sneakers. The announcement comes directly from the two partners who, unveiling two new running silhouettes on their social profiles, explained that they are exploring new technologies and aesthetic solutions.
For Soulland, a brand born in Copenhagen in 2002 and established as one of the most interesting projects of the street scene thanks to its unique style able to mix the typical Scandinavian eco-sustainable minimalism with the skate culture, this is, following the one with Nike, the second collaboration with a sportswear major player.
After last year's great performance, Li-Ning has been defined as the hottest sportswear brand in the world. Founded in 1989 by former 3-time Olympic gold medallist Li Ning, the eponymous brand has reached such a success thanks to a unique combination of traditional Asian elements and modern design focused on the desires of today's young consumers. For the Chinese label working with Soulland, a project apparently distant from its style, but young, eco-conscious and cool, could result in a strategic move to make its products more popular with Millennials and Gen Z, but also with the Western audience in general. In fact, in recent times, Li-Ning has been focusing on improving the quality and reputation of its brand. The first steps have been hiring great stars, especially athletes, like testimonials, from Shaquille O'Neal to Dwayne Wade, but also making their debut at the Paris Fashion Week with its SS20 collection.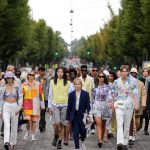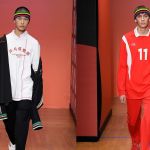 Running creates the intersection of freedom, motion and meditation . . . of humanity and nature - Silas Adler, Soulland co-founder and creative director, said. Because of this, the Soulland team was so excited that runners' culture would be the focus of our first project with Li-Ning. Our working together so far has allowed us to explore new design capabilities and forms, making the partnership all the more exciting and dynamic. Simply put, we can't wait to share more of what we have planned!
Mr. Hong Yuru, Chief Product and Marketing Officer of Li-Ning shared the same enthusiasm:
True to the spirit of teamwork in sport, we at Li-Ning recognise the power of collaboration and the creative exchange of ideas it brings to the surface. In Soulland, we have found a like-minded partner, one who unites a modern aesthetic with a thoughtful respect for tradition and artisanship.
The images show two futuristic-looking running shoe models, featuring layered textures on the upper and a chunky sole that seems designed to support the movement of the foot during the run. Both silhouettes are in white, with details in grey, fuchsia and red, Li-Ning's iconic colour.
The first part of the collaboration that, in addition to sneakers, might include a selection of apparel, is set to hit stores next Fall.