The fight for sustainability according to Timberland
We interviewed Marianella Cervi and the Giò Forma studio on the relationship between design and sustainability
If you have walked in the Brera Design District, during the Milan Design Week 2019, you will probably have noticed a huge installation 6 meters high and made entirely from recycled material. This is RoBOTL, the monster of sustainability designed by Timberland in collaboration with the creative studio Giò Forma, the same that in 2015 created the Tree of Life at Expo. Cristiana Picco and Florian Boje, designer of the creative studio, in front of the Arco di Porta Garibaldi, explain that
"Robotl is the stage of a story, it must visually tell the recycling process. Our job is to design stages, we stage from the opening season to Teatro alla Scala to the stage of Ghali concerts, our task is to stage a moving story, this is why we were inspired by Umberto Boccioni's Futurist sculpture Forme Uniche della Continuità nello Spazio."
RoBOTL wants to elevate the discourse around sustainability, the main theme of 2019 Milan Design Week and recently for all fashion industry.
We asked Marianella Cervi - Head of Sustainability & Responsibility for Timberland EMEA - what it means to be a fashion brand in 2019 and at what level the Boston company is one of the first to produce clothing using waste material.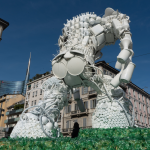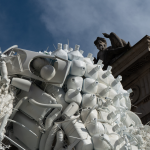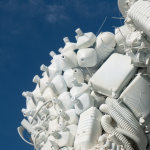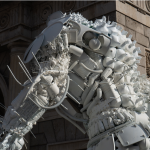 #1 What's the status of fashion in the process of consolidating an awareness of respect for the environment?
10 years ago there wasn't the same awareness as today, we started this journey many years ago, experimenting a lot and that's why we now have a solid base. The basis of the pyramid is there, as well as the awareness of the company, it is up to us, therefore, continuing to think about how to become net positive in the future, thinking more precisely what our next challenges are, not just not polluting but also to leave a positive sign. We feel we have a great responsibility.

# 2 How long has Timberland invested in sustainability?
Timberland was born in the north of the United States, in an area of ​​woods where outdoor is part of everyday habits and for this reason, the care of the environment was right away a main a topic. As a result, we started to produce various kinds of products, continuing to place ourselves among the pioneers in pursuing sustainable roads, an attitude that led us to have been the first to create a boot with recycled rubber, cotton and leather in non-polluting conditions.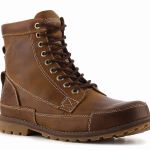 # 3 Are you experiencing a change or increased attention from the whole movement?
Today the awareness is increased by the consumer, today's young people make different speeches from those we did and above all do research. In Italy, recognition has come only in recent years, in England, Germany and more generally in the rest of northern Europe already before.

# 4 How difficult is it to convince the end customer that a sustainable approach does not preclude quality? In which fields can recycling still have significant margins of impact in terms of product quality?
There has been a long journey that has led to quality, it is still not possible for all materials to have the same quality levels, for some, innovation is still struggling for an acceptable quality for the brand's standards. For example, recycled plastic for a summer jogging shoe is ok, but still has a lot of margin for products destined for other seasons. For materials like leather, we are still far from significant results, with cotton we are instead starting to experiment with a technology that allows us to use not only production but also a post-consumer waste.

# 5 Do you think that creating products that respect the environment represent the most concrete form of activism?
Absolutely yes, it is the way that a brand has to do activism, a company should not go to the streets because it has at its disposal a unique weapon, the clearest expression of what you care about. Timberland employees have 40 hours (5 working days) per year to volunteer, this is already an expression of how sustainable sustainability is for us.