Canada Goose 50 words for Rain event
We attended the MDW presentation of a new NOMAD Jacket capsule range
Canada Goose launches a capsule collection of four pieces for men and women designed to protect the urban explorer from unpredictable atmospheric surprises. Designed in collaboration with GORE-TEX, the Nomad Jacket - Rain Shell and the Nomad HyBridge Lite Jacket combines Canada Goose's in-depth experience with GORE's innovative materials.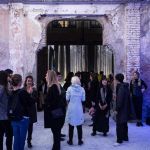 For the occasion, nss attended the launch event last night in Milan for the Italian unveiling at Fuorisalone. Initially launched in Japan, where rain has always been a source of inspiration and guidance, and where there are as many as 50 different words to describe it, the capsule collection will be available in
limited edition
and an Italian exclusive starting in Milan at
Antonioli.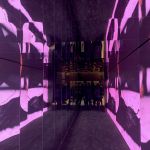 The presentation took place in the Tortona district at a specially designed open-air location in Via Savona, where one was first greeted by a tunnel comprised of an LCD screen tunnel that transported attendees away to various locations in Japan, before entering the courtyard setting.
Japanese sound designer Kouichi Okamoto
had created a special set up where an array of speakers suspended from above played various records of all different types of rain.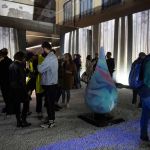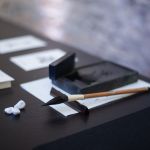 Accompanying the music was Japanese calligraphy artist who wrote the multitude of various expressions for rain on the far wall. Center stage took the unveiling of the jackets. An expression of maximum comfort, design and style, the jackets are designed to represent a functional solution for modern globetrotters, allowing the wearer to move and live their passions fully.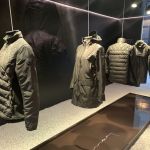 The Nomad Jacket, a Rain Shell Jacket, is a waterproof jacket from the slim fit line, with a breathable mesh that allows the passage of the air, whilst simultaneously protecting from the rain. The jacket is designed to be worn as a unique garment or superimposed on the Nomad HyBridge Lite Jacket. The latter, is light and waterproof, maintains heat and protects against milder rainfall. Essential and versatile, it has been designed with Tensile-Tech fabric inserts, strategically place to facilitate all types of movement and use.
The capsule is available now exclusively from Antonioli.