The Story of the Most Forbidden Sneaker ever made
The Ari Menthol 10's are one of the most legendary bootlegs of the sneaker culture
This article was originally published on March 15, 2019.
A story that has travelled a bit like a legend through sneaker culture since the 2000s is that of the Ari Menthol 10's. A bootleg shoe that simultaneously took on two absolute giants of industry, Nike and big tobacco. As much an art project as an act of defiance, the story of the Menthol 10's had plenty of layers that made it so interesting. A pair has now for the first time arrived in Italy via Dropout Milan, so nss magazine has decided to trace back the story of this very special kick.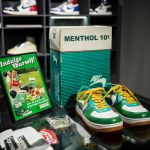 Ari Saal Forman
, a sneakerhead and graphic designer from LA who'd moved to Philadelphia and later New York, as a teenager grew up surrounded by the strong push in advertising that Newport menthol cigarettes were doing, particularly in African American communities. From the '50s to the '2000s the percentage of menthol cigarette use among African American smokers had gone from 5% to a whopping 80% by the start of the new millennium. Newport, from a marketing standpoint, was in this way, very successful, although its product was actually dangerous for one's health, and this dichotomy has always fascinated Ari.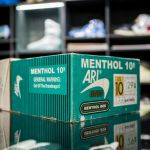 In the early 2000's the internet was truly coming into its own, as a place for sneaker communities to flourish and there was a turning point were
sneakers became a culture
.
E-bay
and forums like
Nike Talk
were the first examples of this expansion, the beginning of something big. A big influence on Ari came from Japan in the form of the Bathing Ape 'bootleg' sneakers that
Nigo (Tomoaki Nagao)
had created because it showed that it didn't have to be only Nike or adidas, and that something adventurous that Nike wouldn't put out could still be successful, having even a higher value than an original, and was the spark for Ari to go about creating his own sneaker.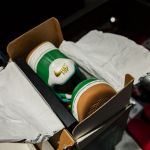 Ari had started working in marketing and via his vocation ended up doing work for both Newport and Nike. Frustrated by Nike's lack of creativity and New Ports successes in marketing something that will kill you in this glossy colourful way, he
wanted to make a case study
in the form of an art piece that posed a question to both these brands. For anyone who's seen the Newport logo, known as the
Spinnaker
, will quickly note its strong resemblance to an upside-down Nike Swoosh. This laid the perfect graphic foundation for the starting point of the sneaker's design, paired with Newports iconic turquoise green colour. Made in China, in
only 252 pairs
, which is what constitutes a sample run, they were released on the
17th of June 2006
, sold exclusively via the Alife and Clientele in NY, the sneaker quickly
became a sold-out cult classic
and featured a lot of, particularly interesting details.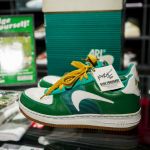 First off the shoe box resembled a huge cigarette pack, where the classic cigarette warning label had been edited to read,
General Warning: Get Off The bandwagon!
The text 'Ari' replaced Nike's brand text logo and the upside-down Newport Spinnaker replaced the Nike Swoosh. On the shoe itself, the inside tag came with the provocative text:
"This sneaker is dedicated to the two brands who have taken the most and given the least. Thanks for the motivation, now it's our turn"
The in-sole looked like a cigarette filter, and for those that know their AF1's well, the stars just underneath the toe had been replaced by dollar signs. Finally, the classic "Air" text on the back of the sole had been replaced by "
Ari."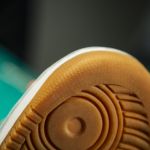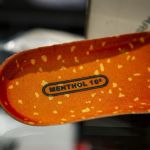 After the release and success of the sneaker, it didn't take very long until both Nike and Newport came knocking on Ari's door. Nike knocked first by sending a "Cease and desist" letter which is a standard statement saying, stop what you are doing and don't do it anymore. Newport, on the other hand, came knocking much more aggressively and started legal actions against Ari. They demanded damages, and didn't believe that the shoe had only been made in 252 pairs, to cut a long legal battle short, the shoe became banned and was ordered to be destroyed, going as far as under the terms of his settlement, Ari cannot legally own a pair of Menthol 10's, he can't use them, he can't own a digital picture of them, can't profit from them, can't talk about them, essentially not being allowed to do anything related to the shoe. After a few years, the case died down, but we are now at a point where the exact number of the Menthol 10's aren't known and the chances of seeing a pair are pretty much near impossible, especially outside of the US, until now.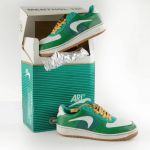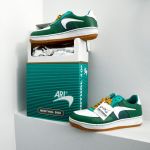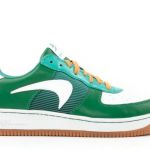 The story of how Andrea Canziani, one of the owners of Dropout, managed to get a couple of them into Italy and his store, is an old school story, made up of alarm clocks in the middle of the night and auctions on eBay. Andrea told us that he had been keeping an eye on the shoe for a while, after the clamour and success that was aroused by the inverted swoosh of the Air Jordan 1 Reverse Shattered Backboard (which you can always see at Dropout), the Air Jordan 1 "Cactus Jack "and the Blazer Mid" Class 1977 "created in collaboration with Slam Jam. This is because the ARI logo looks like an inverted swoosh. Andrea managed to find a couple of ARIs on eBay, and he followed the auction and made his offer and went to sleep (the auction closed at 4:00 am) crossing his fingers hoping that no one would make an offer higher than his. Upon awakening, a bitter surprise, Andrea had been beaten by 5 dollars ... but he did not give up, he contacted the seller asking if there was any possibility that the agreement reached by those surpassing his offer could be unsuccessful. The salesman simply told him that he would let him know if this were to be the case. A few days later Andrea found the same announcement from the same seller and did not wait even a second before contacting him and asking for explanations. No explanation, the seller merely told him that he should follow the auction, and wished him luck. This time there was no sleep, Andrea followed the auction to its conclusion (again at 4:00 am) and won one of the rarest sneakers in the world that you can now go see down at Dropout in Milan for a true piece at sneaker culture history.