The next Skepta x Nike silhouette will reportedly be a Shox
The Anglo-Nigerian artist revisits the sneaker symbol of the grime culture
In the last few years the collaboration between Nike and Skepta has given life to some of the most hyped and coveted sneakers of all time.
The Anglo-Nigerian grime artist has designed silhouettes like the Air Max 97/BW SK, a hybrid model which mixes the sole of the 97 with the upper of the BW, with a red and blue Swoosh, as an homage to the cities of Paris and Marrakech; the Air Max 97 Sk, which has become a real cult in the streetwear scene, once again recalls in the embroideries and in the colors the Moroccan city so important for Skepta. Then, a few months ago, it was the turn of the Air Max Deluxe, as a celebration of the visual of the song That's Not Me, with a graphic showing the VHS interferences and the writing 'Never Sleep On Tour'.
In a shot of the lookbook for the second drop of 2018 of Mains, Skepta's clothing line, the next Skepta x Nike silhouette might have been revealed. It's a Nike Shox R4 in a colorway never seen before, black on black. The sneakers were later sported also by Skepta himself, as the picture posted on his Twitter proves.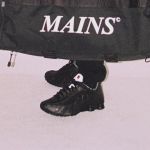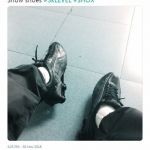 According to the influential sneaker leak Twitter account @py_rates, though, the next collaborative model will reportedly be a Nike Shox TL, in a black/black reiteration. This Nike model has a very long history, began in 1984, but it wasn't until the '00s that the shoe started to gain popularity, between haters and who on the other hand couldn't live without it, becoming the symbol of a number of subcultures. In England, for example, Nike Shox became championed by the undergroung grime music scene. The sneaker stood out since the beginning for its innovative and cutting-edge technology: in the Shox TL, for example, the additional columns run all the way along the sole, making it a still very modern shoe. It's not a coincidence then that even Comme des Garçons has decided to bring this silhouette back on the runway, embellished with a CDG chain.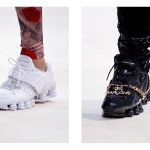 The release date of the Skepta x Nike Shox is yet to be confirmed, but it looks like we'll have to wait until autumn 2019.