PUMA and HASBRO create a Transformers sneakers collection
Optimus Prime and Megatron are transformed into shoes this time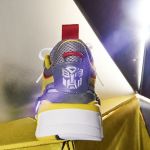 PUMA has collaborated with the known group of toys HASBRO, to create a whole collection of sneakers devoted to the Transformers. Introduced for the first time from Hasbro as series of toys in 1984, the robots that can turn into vehicles to motor become also a popular series of cartoons.
Million of people have in fact assisted to the epic battles between Autobots and the Decepticons and protagonists as Optimus Prime and Megatron they have become common names. For PUMA and Hasbro the throwing of this collaboration anticipates an important date for the fans of Transformers; the exit of BUMBLEE, in the cinemas the next month, December.
We wait to see to go out the collection in the stores during the month of November.
The whole collection PUMA x TRANSFORMERS will exclusively be sold in FootLocker retailers.