Gucci opens an Instagram account dedicated to art
@guccibeauty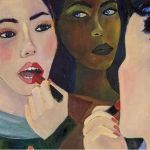 No advertising campaign, product, blogger, tutorial or model. At least for now.
@guccibeauty, the new Instagram account of Gucci, tells, with a new perspective, of beauty and its evolution over time through works of art from the most important museums and galleries and private collections around the world, from the Metropolitan Museum in New York at the Uffizi Gallery in Florence. The space, guided by the aesthetic vision of creative director Alessandro Michele, brings together works such as Woman of Constantinople by Jean-Léon Gérôme, Portrait of Maria de Medici by Agnolo Bronzino, Woman at the Bath by Hashiguchi Goyo or Aurelia By Dante Gabriel Rossetti, all accompanied by the commentary of five writers and art critics, who contextualize the historical and cultural period of the painting, underlining the way in which elements such as red lips and curled hair are captured and understood by artists, eras and different cultures.
Each image is an interesting example of how
"Beauty represents an ideal of each place and era, a style that the artist felt was worth preserving." - explains the Florentine brand - "Sometimes it meant high hairlines and high collars, like Elizabethan England, but it can also be a native woman's simple blouse from a 1876 portrait by painter Felipe Santiago Gutierrez, one of the first international Mexican artists."
This new project represents a space and a different look from any other beauty perspective that fits perfectly into the aesthetic revolution implemented by Michele da Gucci. The vision of the Roman designer has always intersected fashion, history, art, culture and different inspirations that the talented creative manages to transform every time into a unique and eclectic aesthetic proposal that has conquered millions of people.