Best Sneakers Seen On Instagram This Week - From July 23th to 29th
Discover all the Fun Fact of IG's hottest sneakers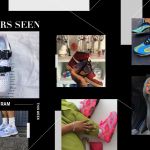 Discover the most interesting facts of the Best Sneakers Seen On Instagram This Week, and get inspired to create the hottest summer sneaker shoots.
Use the #nsssneakers hashtag and tag @nssmagazine to be featured!
Nike Air Max 180 x Comme des Garçons Homme Plus
Fun Fact: The very first sneaker made in collaboration with Kanye West was the Air Max 180 in 2005.
Nike Air Force 1 Custom
Fun Fact: The Nike Air Force 1 was the first "Retro" sneaker. Before 1986 it was unthinkable to propose a silhouette already launched on the market. But the demand was so high that Nike was almost forced to reintroduce it on the market.
Air Jordan 1 OG Chicago
Fun Fact: Michael Jordan was not initially very convinced of the shoe. The colors were for him a clear reference to his worst enemy, the North Carolina State University.
Formy HS
Fun Fact: The Formy HS is the first sneaker made by Domenico Formichetti. It will be available starting from mid-September in two different color ways.
Nike Air Max Deluxe "Midnight Navy Laser Orange"
Fun Fact: The Nike Air Max Deluxe seems to be the protagonist of the next collaboration with the English rapper Skepta.
Nike Air Presto x Off-White Custom
Fun Fact: In 2000 when the Nike Air Presto was launched to find a suitable name, that would expressing the qualities of the sneaker, Nike's creative team decides to accept proposals from the design and development sectors. Among the more than 300 proposals received "Presto Magic" was the favorite: the shoe fits the foot of the wearer almost by magic.