Kardashian-Jenner 2018 Best Hot Bikini Moments
Team Jenner or Kardashian?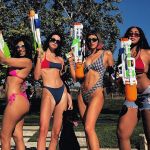 If you look up in the universal language dictionary carefully you will notice that right next to the word "bikini" there is a picture of the most selfie-belfie-hot family of America: we are talking about the Kardashian-Jenner.
Kim, Khloe, Kourtney, Kendall and Kylie are the 5 most followed girls of Instagram, they are the pure essence of social media mentality and certainly they don't have problems in showing their super every day life, between trips in the most magical and remote locations of the planet (with Kanye West) and PFW fashion parties.
But what we like the most about the Kardashian-Jenners is surely the naturalness with which they manage to wear those mini-bikinis that other human beings think that they are designed and produced exclusively for the Kardashian-Jenner.
To wish you a happy summer we present you their Best Hot Bikini Moments of 2018.
#1 The Boss among the bosses
#3 Squad
#4 Kylie's Paradise
#5 Yellow Summer w/ Kendall
#6 Designed for Chanel
#7 Surf In UK
#8 K&K
#9 Mother Nature