The Fusion Sneakers by Maison Margiela
The coolest deconstructed shoes for next winter
Maison Margiela continues to be synonymous with eccentricity and coolness. If you do not believe it, look at its Fusion Sneakers for the FW18 season, unconventional shoes with a deconstructed design.
The features of the shoe are a deconstructed upper with panels that look ripped, contrasting sections of black mesh and white leather, silver and black plastic panels that imitate adhesive tape, black and white laces interspersed and knotted to emphasize the intentionally casual style of the sneaker.
The unique detail? The dry glue that seems to drip on the white midsole.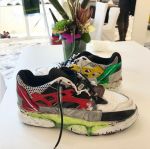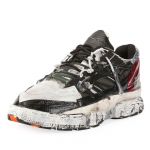 These worn-out and "decomposed" sneakers are on sale now for $ 1,645 USD.