Comme des Garçons launches a new brand
Online and more affordable
The news is exciting for all fashionistas: Comme des Garçons is about to inaugurate a new brand.
"Nobody knows yet, but what I can tell you is it's going to be Internet-based."
This was revealed in these words exclusively at WWD, on the occasion of the opening of the Dover Street Market in Beijing, Adrian Joffe, the CEO of the Japanese company.
The new project will be launched online this July (later they will open six stores all over the world) and it will be aimed at fans who cannot afford to buy more artistic and expensive CdG items, but want simpler and cheaper options like those available on the brand's PLAY line.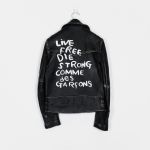 The details are still mysterious, the only confirmed indiscretion is that the same Rei Kawakubo is planning the website.
Stay tuned to nss for more updates.