A new YEEZY Suede Crepe Sneaker for the Yeezy Season 6
Yeezy Mafia unveils the first images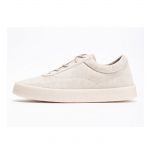 Yeezy Mafia unveils a new Mr. West's creation.
The new sneaker that will probably be part of the Yeezy Season 6, incorporates the previous boots models - that of season 2 and season 4 - but gives a clean break with the past. The new Yeezy is, in fact, sneakers and not boots, which reinterpreting the silhouette of the previous models makes the new creation more versatile. The choice of materials seems to always be super cured.
Stay tuned on nss for more details.
The price of this new "Chalk Thick Shaggy Suede Crepe Sneaker" - according to Yeezy Mafia - will be $400.