The adidas Yeezy Desert Rat 500 will hit stores in March 2018
Ready to shop?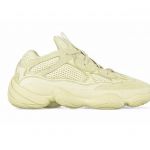 Until now only Kim Kardashian and Kanye West could wear them, but soon even ordinary mortals can do it.
The adidas Yeezy Desert Rat 500 finally have a release date: March 2018.
Just a few months and, spending $220, you can take home these sneakers with a large sole that reminds you of a 90s model. In truth, it was already possible to buy the shoe, but only along with two other Yeezy garments for a total price of $760.
The "solo" debut of this shoes will save a little the Kanye's fans, but... you just have to wait until March.
Are you happy?