James Franco is writing a book about Lana Del Rey
We understood that James Franco wanted to escape this role of the handsome and mysterious guy everyone created around him when in 2013 "Palo Alto" directed by Gia Coppola came out, and we got to know it was inspired by a collection of novels written by the actor (who is also among the protagonists of the movie).
Today we had a confirmation about that: James is currently working on another book, dedicated to friend Lana Del Rey.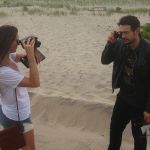 "Flip-Side: Real And Imaginary Conversations With Lana Del Rey", that's the title of the work, collects in 100 pages all the admiration of James Franco for the singer: "Lana lives in her art, and when she comes down to earth for interviews, it gets messy, because she isn't made for this earth. She is made to live in the world she creates" wrote the actor in the essay he dedicated to Lana on V Magazine earlier this year.
The book, written along with author David Shields, will be out on April 2016.
Get your Kleenex ready.